Perrier's Bounty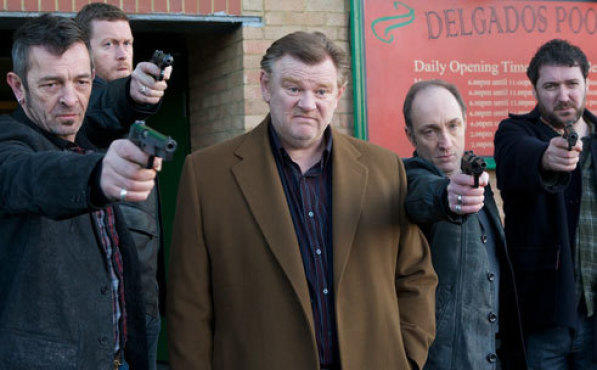 Time Out rating:
<strong>Rating: </strong><span class='lf-avgRating'>2</span>/5
Time Out says
Posted: Mon May 17 2010
People, enough with the faux-hip, slap-happy crime films! Haven't we already exhausted every ounce of adrenal-rush fun there is to be had out of this strain of pulp fiction? In the nearly two decades since Quentin Tarantino hijacked the genre and revamped it into one long, gleefully violent Trivial Pursuit game, filmmakers from Saskatchewan to Stoke-on-Trent have flattered him sincerely with their imitations. Still, we get gratuitous guns-and-giggles mash-ups like this, in which a young Dubliner (Murphy) in debt to an Irish gangster (Gleeson) has to pay up ASAP or else. Once he goes on the lam, the film shifts into quirk overdrive: homosexual henchmen, a detour through the city's dogfighting subculture, the romantic problems of our hero's downstairs neighbor (Jodie Whittaker), a father (Broadbent) who'll go to great lengths to avoid sleeping, and cheeky voiceovers from—wait for it—the Grim Reaper.
Ian Fitzgibbon's batty, blood-soaked joyride certainly isn't the worst of the wink-wink-bang-bang flicks (see Guy Ritchie's movies), and you'd have to be a serious nontalent to get boring performances out of either Broadbent or Gleeson. But it takes more than a few good actors playing bad apples to sustain such familiar romps through regurgitated material. There's no bounty to be plucked from Perrier's Bounty. The treasure chest has long since been emptied.—David Fear
Users say
<strong>Rating: </strong><span class='lf-avgRating'>0</span>/5