The End of the Line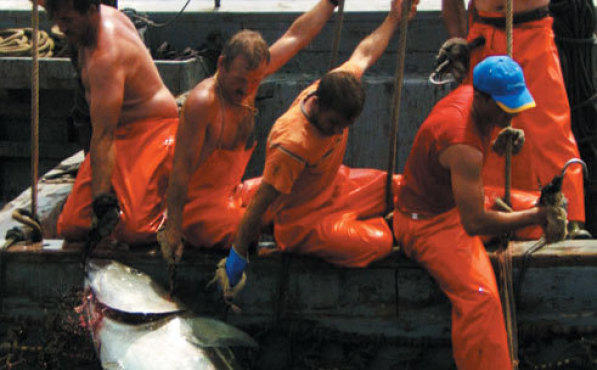 HOOK, LIE AND SINKER Fishermen fudge on their catch-of-the-day quotas.
Time Out rating:
<strong>Rating: </strong><span class='lf-avgRating'>3</span>/5
Time Out says
Thu Jun 18 2009
Overfishing is the danger examined by this latest entry in the hardening genre of crisis documentaries. You know the drill: An environmental-financial-constitutional disaster looms; the remedy is obvious to all but the greedy and ignorant; yet hope remains, thanks to self-gratifying tips for mending our ways. Through graph-wielding scientists, picturesque seascapes and Ted Danson's voiceover, director Rupert Murray lays out the facts about the ongoing decimation of world fishing stocks, which could mean the end of tuna as we know it (and the rise of the jellyfish frittata).
Once the shock of no-fish-for-you wears off, however, The End of the Line's informative litany feels a little one-note. We learn of industrial supertrawlers and flouted catch limits, and tour the coasts of Spain, Senegal, Japan and Alaska (monitored by watchful maritime patrols). But there's no next step of the sort taken by films like Food, Inc. or The Unforeseen, which nudge viewers toward insights about human nature or persuasive connections among society's moving parts. You might learn to order sushi ethically, but absolute certainty can be boring in a film, and it's surprising coming from the director of a tricky doc about an apparent amnesiac (Unknown White Male). Ultimately, it's hard to improve on one Bahamian's quoted advice to "allow de fish to do what dey do."—Nicolas Rapold
Now playing; Cinema Village. Find showtimes
Users say
<strong>Rating: </strong><span class='lf-avgRating'>0</span>/5