The Limits of Control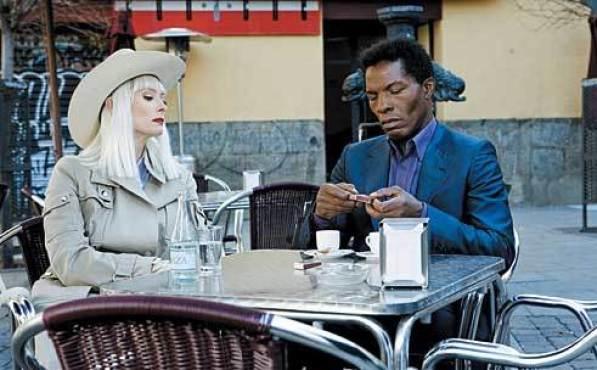 EVEN COWGIRLS GET THE BLUES Swinton and De Bankol decode a secret message over espresso.
Time Out rating:
<strong>Rating: </strong><span class='lf-avgRating'>4</span>/5
Time Out says
Thu Apr 30 2009
Jim Jarmusch's latest—his best since Dead Man (1995)—practically begs for dissection and analysis, but it's better, perhaps, to read the film's many repeated symbols, sayings and actions as mood enhancers rather than intellect stimulators. The inspirations are crystal clear: Everything from Jean-Pierre Melville's existential noirs to Jacques Rivette's heady conspiracy tales, embodied in the form of a nameless man (De Bankol) on an arcane mission. The setting is Spain, but even that's a ruse. Those looking for the genre-veiled political commentary of, say, a Franco-era Victor Erice will find Jarmusch's boho-versus-businessman punchline the ultimate letdown. Boiled to a facetious essence, the film becomes little more than Kill Bill (Murray).
But taken as a state of mind writ photochemically large (Jarmusch and DP Christopher Doyle compose astonishingly for 35mm), The Limits of Control suddenly reveals its depths of insight and emotion. A key line of reiterated dialogue ("You don't speak Spanish, do you?") is funny at first, quickly becomes a maddening running gag and ends up being a mere fact of life in this meticulously controlled world. Spoken again as prelude to a musical interlude in a flamenco bar, the words resonate with feeling, bridging the gap between characters as surely as a great work of art connects with its viewers. It's almost cruel at film's end when Jarmusch quite literally shakes us out of the reverie, but maybe that's just a roundabout way of inviting us to return to his experiential labyrinth.—Keith Uhlich
Opens Fri.
Users say
<strong>Rating: </strong><span class='lf-avgRating'>0</span>/5