Thor (PG-13)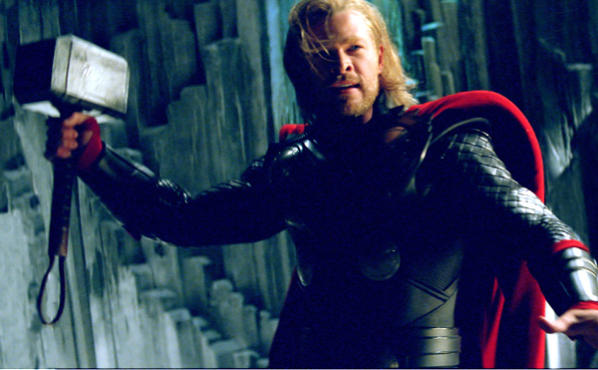 Time Out rating:
<strong>Rating: </strong><span class='lf-avgRating'>2</span>/5
Time Out says
Tue May 3 2011
Stan Lee and Jack Kirby's '60s comic book about the God of Thunder schooled a generation in the intricacies of Norse mythology, and if nothing else, Kenneth Branagh's take on the hammer-swinging superhero will ensure today's fidgety teens know what the Bifrst is (a rainbow bridge that connects our world to the divine realm) or who the jtunn were (frost giants). Anyone not needing to cram for a Scandi-Folklore 101 final, however, will quickly discover that summer-blockbuster Valhalla does not await them. Thor accomplishes its essential goal and little else, which is to introduce the mighty warrior to the Marvel screen universe, in addition to the hunk who'll be playing him until Ragnark or the inevitable reboot, whichever comes first. Granted, Australian actor Chris Hemsworth looks the part, with the blond tresses of a Norse god and the body of a Greek one. (This pumped-up thespian isn't a slab of beefcake; he's an entire herd of cattle.) You believe this guy could summon lustful sighs, if not a thunderstorm.
Other than the novelty of a new face and the nagging sense that everyone here is killing time until the 2012 Avengers movie, however, the prevailing mood is dj vu. Branagh piles on the Kirbyesque Dutch angles and the Shakespearean drama of evil brother Loki (Hiddleston) vying for the affections of Dad (Hopkins, hammy). But that doesn't make the action scenes less confusingly chaotic, Natalie Portman's romantic interest less shrugworthy or lines like "the hammer Mjolnir, forged in the heart of a dying star!" less laughable when spoken aloud. Gods and monsters be damned, Thor is still the same old origin story, indistinguishable from the dozens we've seen in summers past; after almost two hours of stock sound and fury, the very first comic-book flick of the season already leaves you in a state of superhero-movie fatigue.
[node:1300447 link=Read our interview with Thor himself, Chris Hemsworth;]
Watch the trailer
Author: David Fear
Release details
Rated:
PG-13
US release:
Fri May 6, 2011
Duration:
113 mins
Cast and crew
Cast:
Natalie Portman, Stellan Skarsgard, Ray Stevenson, Clark Gregg, Kat Dennings, Rene Russo, Anthony Hopkins, Idris Elba, Chris Hemsworth, Tom Hiddleston
Director:
Kenneth Branagh
Users say
<strong>Rating: </strong><span class='lf-avgRating'>0</span>/5