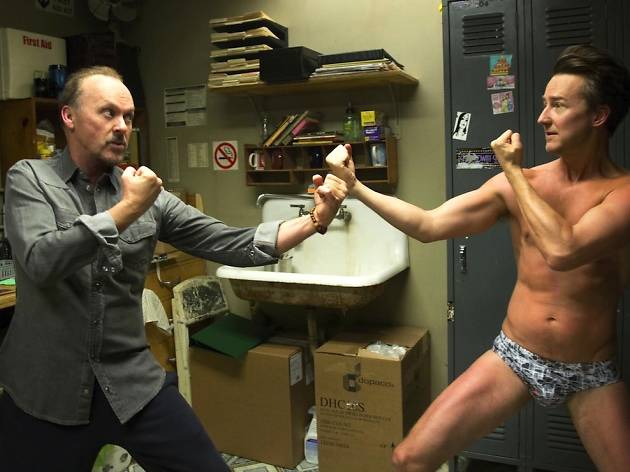 'Most of the successful people in Hollywood are failures as human beings.' So said Marlon Brando. But what happens when their 15 minutes are up? It's not like failure suddenly transforms former mega-celebs into humble human beings who can pick up their own coffee from Starbucks. That's Michael Keaton's problem in this savagely funny, strangely sweet, sad and utterly brilliant New York-set comedy from Mexican writer-director Alejandro González Iñárritu, better known for his gloomy, state-of-the world dramas 'Babel' and '21 Grams'.

Keaton is Riggan Thomson, an actor who raked in the cash in the early 1990s as a lame pre-'Avengers' superhero in a blockbuster franchise (a clear nod to Keaton's own days as Batman). He hasn't made a Birdman film in years – but Birdman is still part of him. Quite literally: there's a naff, booming comic voice in his head ('You're the real deal'), and it gives him superhuman powers. Is Birdman a figment of Riggan's imagination? Is this a dig at superstar actors with inflated egos who have trouble telling the difference between real-life and their movie characters? Whatever it is, Riggan has problems. He's trying to reinvent himself for a second act as a Serious Artist, remortgaging the house in Malibu to write, direct and star in an adaptation of a Raymond Carver short story on Broadway. But Birdman is shitting on the plan, telling Riggan to make a reality TV show instead of this 'piece of shit'.

'Birdman' is hilarious simply as a film about putting on a play, shot by Iñárritu in a jittery, handheld style. Emma Stone, with ripped tights and bleached hair, is brutally funny as Riggan's messed-up daughter, fresh out of rehab. There's something a bit Wes Anderson for grown-ups about these people. Edward Norton is a stage actor a couple of decades too old for his bad boy, rock-star-of-Broadway routine, who joins the troubled play at the eleventh hour. When he gets an erection on stage, Stone waspishly points out it's getting more Twitter reviews than the play.

This isn't the super-cynical, snarky piss-take of actors it might sound like. Iñárritu feels for these people. Norton, hitting on Stone, tells her with disarming sincerity that, if he could have any part of her, it would be her eyes – so he could see New York again as a 20-year-old. It's an extraordinarily touching moment. Best of all, Keaton is dream casting, and he's fearless, never holding back with the rodent-like, twitchy facial tics. The film's subtitle is: 'The Unexpected Virtue of Ignorance.' And the brutal truth is even when he's trying to be a good dad, Riggan can never get past his own ego. And that same ego (Birdman?) will also protect him from life's slings and arrows.

We know Iñárritu has a dark side (just look at his previous films like 'Amores Perros' and 'Babel'), and it's not entirely hidden here. Life is disappointing, his film is saying (it opens with a Carver quote, 'Did you get what you wanted out of life?'). But it's also beautiful and, at times, unexpected. This film does real justice to that idea: it's dazzling and rambling, intimate and sprawling, and it's carried along by an infectious, off-the-cuff jazz score. As soon as it ends, you'll be dying to fly with it again.


Release details
| | |
| --- | --- |
| Release date: | Friday January 2 2015 |
| Duration: | 119 mins |
Cast and crew
Director:
Alejandro González Iñárritu
Screenwriter:
Alejandro González Iñárritu, Nicolás Giacobone, Alexander Dinelaris, Armando Bo
Cast:
Michael Keaton
Emma Stone
Andrea Riseborough
Edward Norton
Zach Galifianakis

Average User Rating
3.2 / 5
Rating Breakdown
5 star:

5

4 star:

3

3 star:

2

2 star:

7

1 star:

1
For me the closest relative of this dire work is MAPS TO THE STARS - both set out to break free of the constraints of the 'creative artist' story; but ultimately they both fall into the same trap of linear, mundane storytelling. Yes the tracking shots are cute, yes the drummer makes you smile - but it never actually shifts planes into something deeper. The dialogue at times is Hollywood (okay Theatreland) 101. Critics only write because they can't act/direct (like we haven't heard that flaccid argument again and again). And there's nothing more un-ironic (okay that may not be a word!) than Norton's character delivering the sounds-like-a-greeting-card line after delivering...guess what...yeah, exactly. For me, the first huge disappointment of 2015.
Fair enough performances are great, but 2nd Jan and already strong contender for most overrated film of the year! It's so pretentious the only way it could be further up its own a**e is if it sporadically flashed 'indie art-house project' on the screen. In the end it becomes a parody of itself.

Really enjoyed this film, Mr Keaton really is a very good actor after all and Ed Norton jumps in with a really good performance, bit of a nutty storylinebut well worth a watch.

I was rather disappointed. Keaton is good and, being a fan of the theatre, I liked the set-up and the behind-the-scenes goings-on. But I did not like the ambiguous ending, and the film too often came across like it was trying too hard. I agree with Craig J's comments (below).
Nice picture, good acting in an extremely boring and very long film.
Really didn't like this film, apart from a couple of scenes maybe. Found it pretentious and self-indulgent and left the cinema feeling grumpy and disappointed. Wouldn't recommend.
Went into this with high expectations and was really let down.
Brilliant. Ed Norton is incredible the photography is stunning and the script is even better. Best film I have seen in years.
Brilliant unique idea,interesting touch on very real scenarios that everyone can relate to.The fluid movement of camera shots and the drumming audio create such intensity throughout.BRAVO BRAVO!!
A typical modern American film, in that it had some merit but spoilt by poor sound recording and poor articulation of dialogue. Couldn't understand a significant percentage what the characters were saying. Also the recommended sound levels were far too loud, came out with a brain battering headache.
Well crafted but mind-numbingly tedious theatrical drama. Not my cup of tea at all. Two and a half stars.
brilliant. as everything that A G Innaritu directed (Amores Perros, 21 grams, babel) . And making the whole film as if it's just one long shot is impressive. Michael keaton and edward norton are also brilliant. I doubt I'll see anything better this year. You need to be open minded though.. it's not a linear and logical story.
All the parts are great: acting, cinematography, direction, photography, but the result is somewhat underwhelming. But Edward Norton, oh baby, there are no words!!!!!!

this is going to be my favourite movie of 2015 - I just feel it - its real, gritty , edgy and true and its life ....
want to see it again and again