Creep (18)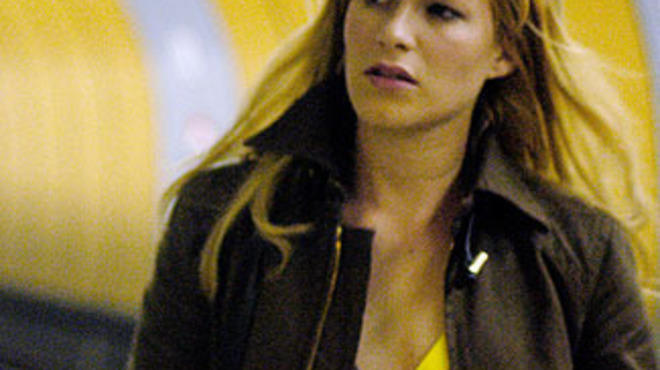 User ratings:
<strong>Rating: </strong>5/5
Rate this
Time Out says
Inspired by – ripped off from, some might say – the cult '70s horror film 'Death Line', this London Underground-set slasher squanders a promising premise – woman trapped on the tube after closing – for trashy shocks, old-school nastiness and a fistful of genre clichés. German girl-about-town Kate (
Franka Potente
) falls asleep on a tube platform on her way home, and wakes to find herself locked inside a station with, for company, a rapist colleague (
Jeremy Sheffield
), a homeless junkie couple, their cute dog, a sewer-worker (
Vas Blackwood
) and a genetically engineered homicidal maniac. As the victims pile up – funny how busy the network gets after midnight – Kate discovers the capital's slimy underbelly: a dark, dank, treacherous subterranean hell of abandoned stations and secret laboratories that's definitely not for tourists.
In what's less a matter of 'Run, Lola, Run' than of crawling through rat-infested sewers in a designer dress and heels while being pursued by something sinister, Potente gamely essays the scream-queen role. First-time director Smith has clearly studied enough horror movies to pepper his own with effective BOO! moments, but his script stinks more badly than the cess-pools Kate's forced to endure. The claustrophobic locale helps marginally, but the plot's logic-bypass mires any chance of real suspense (though one truly repellent gynaecological moment is definitely not for the squeamish). Alas, the eponymous mutant (whose identity we're asked not to reveal) proves laughable, with ridiculous monster make-up on a fine actor, rendering the movie less terrifying than Camden Town station at rush hour.
Author: MS
Release details
Rated:
18
UK release:
Fri Jan 28, 2005
Duration:
86 mins
Cast and crew
Cast:
Production Designer:
Music:
Cinematography:
Producer:
Director:
Editor:
Write your own review