Martin Freeman interview: 'I do enjoy fighting'
The star of one of the year's biggest films tells us about his epic journey from the desolation of Slough to the 'Desolation of Smaug'
By Nick Aveling Thu Dec 5 2013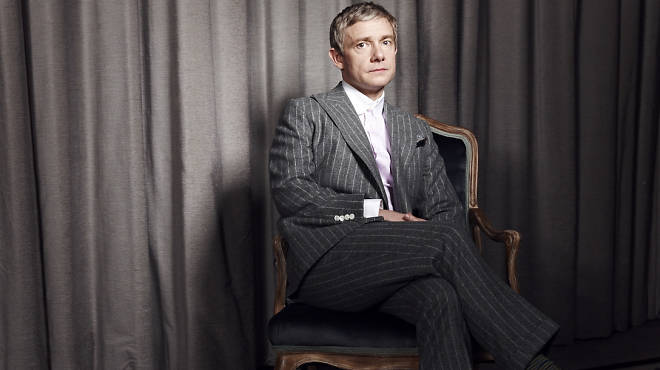 Photo: Jay Brooks

I've been doing interviews for years,' says Martin Freeman, 'and in all that time I've virtually never read one and gone, "Yep, factually and tonally that's exactly what happened." Pretty much never.' Well, this is awkward. Or at least it would be if today's interview – conducted across an oceanic glass coffee table in Mayfair's Claridge's Hotel – hadn't gone bounding off script. Ostensibly, the 42-year-old – who originally made his name more than a decade ago as put-upon Tim in Ricky Gervais's 'The Office' – is here to promote his starring role in 'The Hobbit: The Desolation of Smaug'. It's the middle film in director Peter 'Lord of the Rings' Jackson's three-part return to Middle Earth, following last year's billion-dollar grossing 'The Hobbit: An Unexpected Journey'. And of course there's 'Sherlock', back for a third series this Christmas.

But we hardly touch on dwarves and detectives: there isn't much to add to the topic of 'Sherlock' when every conceivable explanation behind Holmes's death-defying leap at the end of the last series has already been speculated, counter-speculated, and counter-counter-speculated upon at least twice. And, for all Jackson's cutting-edge efforts, 'The Hobbit' remains a well-worn and familiar 76-year-old story. So, we move on to other topics including working with his partner Amanda Abbington (with whom he has two children), Morgan Freeman and gay porn…

'The Hobbit: An Unexpected Journey' was a box office record-breaker – has its success changed you?
'I remember having those conversations before "The Hitchhiker's Guide to the Galaxy" came out [in 2005] and thinking, fuck, is everything going to change? And it didn't, really. I'm a big believer that life changes as much as you want it to. If you invite in all the madness, it will. If you don't, if you kind of let the world quietly know, "No thanks, I still want to get on the train and live my own life," then somehow it doesn't have to.'

So celebrities are at fault for their own lack of privacy?
'That's a cruel attitude – if someone's unhappy, you should leave them alone, even if they wanted attention five minutes ago. But I do think – in a very real, common sense way – that if you want to be famous, you can be. It's not a great talent; if you put yourself forward, it will happen to you.'

Do you find playing Tim in 'The Office' left you stuck with the 'everyman' label?
'Tim cast a very long shadow. I mean, I'm very proud of "The Office" – it was one of the best things I'll ever do. But you do become a slight victim of your own success in the sense that people think that's you, that's what you are and that's what you'll play forever. Before "The Office" I was playing quite diverse roles – not famously, but quite diverse – and because of the success of that show, there's a feeling that "you're the everyman bloke".'

Has there ever been a hilarious mix-up involving you and Morgan Freeman?
'No, not a real one.'

Your character, Bilbo Baggins, does a lot more fighting in 'The Desolation of Smaug'. Was that fun?
'I do enjoy fighting, actually. Fighting wargs [giant wolves kept by orcs] is good fun. But usually it's the stunt team dressed in green-screen ninja outfits carrying a big fucking head that you've got to stick with a sword. At least if I get started on by a warg now, or if any elves step to me, I'll be fine.'

Bilbo developed quite a bit in the first Hobbit film – what can we expect this time around?
'This is the film where Bilbo becomes totally invaluable to the group – he's not a mascot or someone to be patronised. In fact, he saves their arses on numerous occasions, so he's really needed. He finds more character, more backbone, than he knew he had. I love Bilbo's "plucky" side, but I'm also interested in when he has to get serious. In times of war, manners and politeness don't mean too much.'
Freeman as Bilbo Baggins in 'The Hobbit: The Desolation of Smaug'
Given the level of speculation around the last episode of 'Sherlock' [in which the detective fakes his own death], are you at all worried the big reveal might be anti-climactic?
'[Sherlock writer] Mark Gatiss actually said that himself. There's something slightly mundane in knowing the truth of a thing. It's like asking Derren Brown to explain one of the amazing things he does. When he tells you, you're likely to go, "Oh, right, erm…" I still think it's going to be satisfying, though. Loads of people have gone to fucking town on how they think it happened – and some of the theories have been quite close. We have some fun with that in the show.'
The BBC have kept mum about a fourth series of 'Sherlock'. Is it on the cards?
'I think we can safely assume that before the century is over there will be more "Sherlock".'
There's an entire online community of 'Sherlock' fans dedicated to depicting erotic scenarios for Watson and Sherlock. Does that stuff bother you?
'I've always seen it as a point of principal not to be offended if people imply you're gay – so no, I've never given a shit. If I was offended, I'd kind of think, well what does that make me? I wouldn't want a 15-year-old kid thinking I'm ashamed of it. I'm not. If anything, it's kind of funny to see pictures of me and Ben doing whatever we're doing to each other – even if they're far from the truth. The only time I'm sort of bothered is when people get proprietary about it or think there should be a certain kind of reaction, like it needs to be in the National Gallery.'
Do you have any favourite erotic portrayals of yourself?
'Ian McKellen [Gandalf in "The Hobbit"] was emailing me pictures like, "Have you seen this dear?" and I'm thinking, yeah, I've seen stuff much more fucking extreme than that. Some of it's very well drawn – let's put it that way – like genuinely good graphic-novel art. But some of it is a bit, you know, not to my taste.'
Your longtime partner Amanda Abbington plays Watson's love interest in the upcoming series of 'Sherlock'. Some fans were so distraught they tweeted her death threats. Does that level of fandom worry you?
'It's ridiculous. To me, they're not fans of the show – they're fans of a show going on their heads. Obviously I love Amanda and I want everyone to react positively to her; she plays a fantastic character and brings a hell of a lot to the third series. If people want to imagine Watson and Holmes fucking, they're more than welcome to, but it will have no bearing on what we do in the show.'
You've just signed on to 'Fargo', an American TV series based on the Coen brothers' Academy Award-winning film. What's that going to be like?
'It's in the same universe as the film – there's a similar tone – but it's not based on the film in terms of plot. Billy Bob Thornton's in it, and his character comes along and teaches mine to take control in ways that aren't always saintly.'
Have you started to work on the accent?
'I'm having Skype lessons and, well, pride comes before a fall but I think I'm doing okay. It's daunting. I don't want to rip off Bill Macy's accent, or rip off an accent that's already passed into comedy, so I've been on YouTube to see how real Minnesotans sound. Trouble is, some accents lend themselves to comedy. They just fucking do.'
'The Hobbit: The Desolation of Smaug' is in cinemas Fri Dec 13. 'Sherlock' returns over Christmas.
With Gollum's iconic cave scene out of the way, we finally get to clap our eyes on the infamous dragon in the second instalment of Peter Jackson's three-part Tolkien adaptation. An early trailer showed us plenty of leg, with dramatic landscapes, barrel-hopping action, CGI monsters, marching orcs and scarifying spiders. The highlight was undoubtedly a first hint of Benedict Cumberbatch's lugubrious tones as Smaug the magnificent, lord of lizards.
See the full 'The Hobbit: The Desolation of Smaug' review
---
The best films now showing
Fond and giddy, the film of Michael Bond's books is everything you want it to be
Rated as: 4/5
Critics choice
A boys-own retelling of adventurer Thor Heyerdahl's 1947 Pacific crossing
A soulful, uplifting documentary following the occupants of a Nepalese cable car
See more Time Out film reviews
Read a review of...
Regular Time Out film features