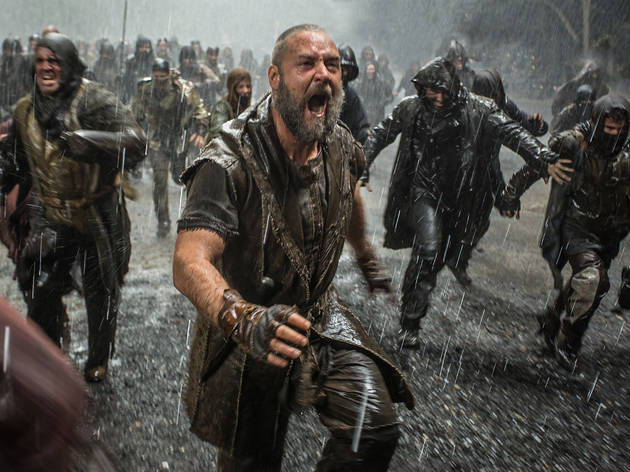 'Black Swan' and 'Requiem for a Dream' director Darren Aronofsky's big-ticket retelling of the Old Testament story, with an oh-so-serious Russell Crowe playing Noah, is stupid but train-wreck fascinating. Your jaw will drop early and often – right from the opening dream sequence during which Man's fall from grace in the Garden of Eden is presented complete with a hilarious digital snake.
'The Creator' (this film's careful tag for God) sends a vision to warn his gruff servant Noah that a flood is coming. With the help of his 1,000-years-young grandfather Methuselah (Anthony Hopkins) and loyal wife Naameh (Jennifer Connelly), Noah realises that his calling is to build that fabled ark.
The massive barge of wood is a spectacular piece of design that Aronofsky reckons adheres to biblical specifications. Kudos for realism, as well as for the alternately green and burnt landscapes – shot in Iceland and upstate New York – that give a vividly grimy portrait of Earth before the flood.
Yet the bad decisions far outweigh the good. There are towering stone-covered creatures known as 'Watchers' (looking like Transformers made of rock) who speak in the deep tones of Frank Langella, Mark Margolis and Nick Nolte. They're meant to be a fantastical representation of the fallen-angel race known as Nephilim, but they come off like rejects from a Peter Jackson superproduction. Aronofsky is extremely ill-suited to battle scenes, so Clint Mansell's histrionic score picks up the slack. There's also a bunch of melodrama between Noah and his family, as well as a head-slappingly overcooked performance by Ray Winstone as a villainous stowaway.
All this bombast neuters most of the riskier religious elements, apart from a mid-movie sequence that gorgeously imagines the seven days of Creation in sped-up stop motion. It's here that Aronofsky launches his only stinging salvo, presenting a making-of-the-universe that denies neither evolution nor an intelligent guiding hand. But it's a lone exception in a movie that otherwise makes an oft-told story pompous instead of poetic.
Release details
| | |
| --- | --- |
| Rated: | 12A |
| Release date: | Friday April 4 2014 |
| Duration: | 138 mins |
Cast and crew
Director:
Darren Aronofsky
Screenwriter:
Darren Aronofsky, Ari Handel
Cast:
Emma Watson
Russell Crowe
Jennifer Connelly
Anthony Hopkins
Ray Winstone

Average User Rating
3.3 / 5
Rating Breakdown
5 star:

0

4 star:

2

3 star:

0

2 star:

1

1 star:

0
Russell Crowe: Hulking frame, shaven head, full-on beard, talking to the clouds...manual labor for Rock Giants. Sounds absolutely bizarre - especially from Darren Aronofsky. Well, to be fair, Aronofsky did give us the equally bonkers 'Black Swan,' but the filmmaker's esoteric approach to the material makes the film seem more distinctive to other biblical epics that preceeded it. It might cause derision with religious scholars and devout historians, but Aronofsky has crafted an intense ride for the sheer purpose of entertainment.
I must admit, the first sign of the Rock Giants seemed like they the aborted creations of Michael Bay, but the performances carried the film perfectly that at times you hardly noticed them. One would want to give credence to the characters, even though they try so hard to avoid being overtly exagerated; the precedence set by Ray Winstone's character Tubal-Cane being an example. The limping leg for much of the film comes solely through the asinine attempts at designing CGI beasts, mostly in the opening scenes.
Still, with strong performances from Crowe and Jennifer Connolly; a bold and almost operatic score from regular collaborator Clint Mansell, these elements distract the audience from the ovbvious absurdist approach to the material.
It is a film that will divide and probably be forgotten in less that a year, but like Arronofsky's other misunderstood film 'The Fountain,' it might be visited in years to come for a full re-evaluation. In the meantime take 'Noah' for what it is: A solid piece of pre-summer movie entertainment that requires only a modicum of intelligence from its audience.

For once TIme Out call it right on an American action movie! This is good news. You got 'Man of Steel' (and many others) so wrong, blindly overlooking its sheer pomposity. I quite agree with Keith Ulich that 'Noah' is a spectacularly ponderous piece and also that the creation may well be its best and most thought-provoking sequence. The dialogue is as heavy-handed as the acting with lines musing on things like (and I quote) 'Ham's integrity'!!. Another line intones typically 'It is painful but it is just'. Amend that to 'It is painful and it is crap!'