Notes on a Scandal (15)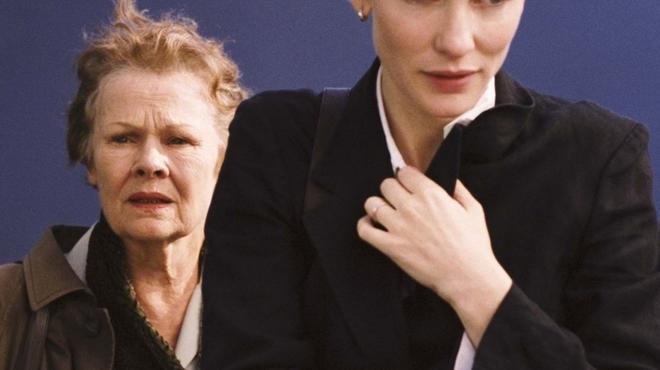 Time Out says
Tue Jan 30 2007
The original title of Zoe Heller's 2003 novel asked, 'What Was She Thinking?', referring to Sheba Hart, a new instructor at a rough London comprehensive school who tumbles disastrously into an affair with a teenage pupil. As becomes clear in
Richard Eyre
's screen version, however, the question might also apply to the story's acrid narrator, Barbara Covett, the battle-axe veteran teacher who becomes Sheba's confidante and nemesis: the deeper the film journeys through Barbara's own words and thoughts, the stranger and more damaged she appears. Barbara (
Judi Dench
) is sinking into desiccated spinster solitude when Sheba (
Cate Blanchett
) alights on campus dewy and open as a flower, and Barbara catches the scent. She plays emotional nursemaid to the conflicted younger woman but, in her journal, skewers this frivolous product of 'bourgeois bohemia' with all the attentive scorn of a spurned lover. (Those surnames are instructive: Barbara longs for exactly what she derides; Sheba has a heart, but if she only had a brain.) The discovery of Sheba's indiscretions grants Barbara permanent possession of her prize rose, or so she thinks… Spurred on too insistently by
Philip Glass
's usual programme of anxious orchestral undulations, 'Notes on a Scandal' is a melodrama with easily forecasted stages. Its pleasures, therefore, are all in the execution: an arsenal of zingers ('Closer' scribe
Patrick Marber
adapted Heller's novel),
Chris Menges
' autumnal cinematography, and, of course, the acting.
Bill Nighy
is stunning in the small but pivotal role of Sheba's devastated husband, and Dench locates the desperate pathos in Barbara's malevolence. Blanchett's performances flirt with camp, a larger-than-life tendency that's perfectly suited to Sheba in her many guises: the beautiful cartoon of naïve privilege that Barbara sees, the tabloid fodder that the public denounces, and the lost woman wandering into middle age in a fugue of lust and denial, unknowable to her family or herself.
Author: Jessica Winter
Release details
Rated:
15
UK release:
Fri Feb 2, 2007
Duration:
91 mins
Cast and crew
Cast:
Editor:
Music:
Production Designer:
Cinematography:
Screenwriter:
Producer:
Director: