Riddick (15)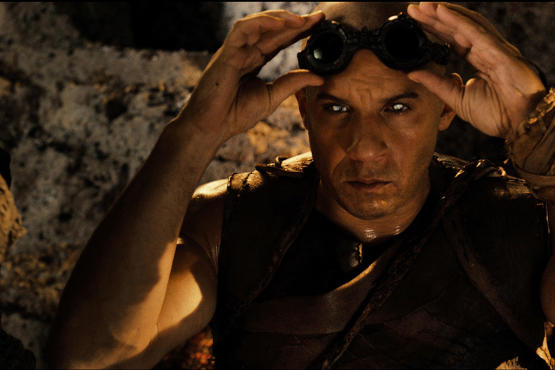 Riddick
Time Out rating:
<strong>Rating: </strong>2/5
User ratings:
<strong>Rating: </strong>4/5
Rate this
Time Out says
Wed Sep 4
The original Riddick adventure, 2000's 'Pitch Black', was a serviceable 'Alien' clone, as Vin Diesel's muscular convict held off an army of darkness-loving beasties with only the galaxy's most gravelly voice as his weapon. 'The Chronicles of Riddick' (2004) was a misfire, placing our hero at the centre of a tedious 'Dune'-like intergalactic conflict. Now, unheralded, comes 'Riddick', a return to the Vin-kills-slimy-things template of the first movie. In parts it's almost a remake, the only difference being that these nasties come out in the rain, rather than the dark. There's a whole lot of previously-on-'Riddick' backstory to get through – a gang of bald chaps with names like Lord Siberius Vaako tried to bump him off, apparently – before we reach the meat of the story. When we do, it's flavourless: the aliens are unscary and easily despatched, Vin's too silent to be interesting, and the other characters – a gang of bounty hunters on Riddick's trail – are either dull or offensive: Katee Sackhoff's lesbian character appears to exist purely so the male characters can threaten to rape her. Nice.
Author: Tom Huddleston
Release details
Rated:
15
UK release:
Wed Sep 4, 2013
Duration:
119 mins
Cast and crew
Director:
Screenwriter:
Cast:
Address:

Showcase Newham Jenkins Lane
Barking
IG11 0AD

Venue phone:

0871 220 1000

Venue website:
Transport:

Rail/Tube: Barking

Map

Showcase Newham

Jenkins Lane




Barking




IG11 0AD

0871 220 1000

51.523785

,

0.079304
Thu Dec 5:

Fri Dec 6:

Sat Dec 7:

Sun Dec 8:

Mon Dec 9:

Tue Dec 10:

Wed Dec 11:

Thu Dec 12:

Fri Dec 13:

Sat Dec 14:

Sun Dec 15:

Mon Dec 16:

Tue Dec 17:

Wed Dec 18:

Thu Dec 19:

Fri Dec 20:

Sat Dec 21:

Sun Dec 22:

Mon Dec 23:

Tue Dec 24:

Wed Dec 25:

Thu Dec 26:

Fri Dec 27:

Sat Dec 28:

Sun Dec 29:

Mon Dec 30:

Tue Dec 31:

Wed Jan 1 2014:

Thu Jan 2 2014:

Fri Jan 3 2014:

Sat Jan 4 2014:

Sun Jan 5 2014:

Mon Jan 6 2014:

Tue Jan 7 2014:

Wed Jan 8 2014:

Thu Jan 9 2014:

Fri Jan 10 2014:

Sat Jan 11 2014:

Sun Jan 12 2014:

Mon Jan 13 2014:

Tue Jan 14 2014:

Wed Jan 15 2014:

Thu Jan 16 2014:

Fri Jan 17 2014:

Sat Jan 18 2014:

Sun Jan 19 2014:

Mon Jan 20 2014:

Tue Jan 21 2014:

Wed Jan 22 2014:

Thu Jan 23 2014:

Fri Jan 24 2014:

Sat Jan 25 2014:

Sun Jan 26 2014:

Mon Jan 27 2014:

Tue Jan 28 2014:

Wed Jan 29 2014:

Thu Jan 30 2014:

Fri Jan 31 2014:

Sat Feb 1 2014:

Sun Feb 2 2014:

Mon Feb 3 2014:

Tue Feb 4 2014:

Wed Feb 5 2014:

Thu Feb 6 2014:

Fri Feb 7 2014:

Sat Feb 8 2014:

Sun Feb 9 2014:

Mon Feb 10 2014:

Tue Feb 11 2014:

Wed Feb 12 2014:

Thu Feb 13 2014:

Fri Feb 14 2014:

Sat Feb 15 2014:

Sun Feb 16 2014:

Mon Feb 17 2014:

Tue Feb 18 2014:

Wed Feb 19 2014:

Thu Feb 20 2014:

Fri Feb 21 2014:

Sat Feb 22 2014:

Sun Feb 23 2014:

Mon Feb 24 2014:

Tue Feb 25 2014:

Wed Feb 26 2014:

Thu Feb 27 2014:

Fri Feb 28 2014:

Sat Mar 1 2014:

Sun Mar 2 2014:

Mon Mar 3 2014:

Tue Mar 4 2014:

Wed Mar 5 2014:

Thu Mar 6 2014:

Fri Mar 7 2014:

Sat Mar 8 2014:

Sun Mar 9 2014:

Mon Mar 10 2014:

Tue Mar 11 2014:

Wed Mar 12 2014:

Thu Mar 13 2014:

Fri Mar 14 2014:

Sat Mar 15 2014:

Sun Mar 16 2014:

Mon Mar 17 2014:

Tue Mar 18 2014:

Wed Mar 19 2014:

Thu Mar 20 2014:

Fri Mar 21 2014:

Sat Mar 22 2014:

Sun Mar 23 2014:

Mon Mar 24 2014:

Tue Mar 25 2014:

Wed Mar 26 2014:

Thu Mar 27 2014:

Fri Mar 28 2014:

Sat Mar 29 2014:

Sun Mar 30 2014:

Mon Mar 31 2014:

Tue Apr 1 2014:

Wed Apr 2 2014:

Thu Apr 3 2014:

Fri Apr 4 2014:

Sat Apr 5 2014:

Sun Apr 6 2014:

Mon Apr 7 2014:

Tue Apr 8 2014:

Wed Apr 9 2014:

Thu Apr 10 2014:

Fri Apr 11 2014:

Sat Apr 12 2014:

Sun Apr 13 2014:

Mon Apr 14 2014:

Tue Apr 15 2014:

Wed Apr 16 2014:

Thu Apr 17 2014:

Fri Apr 18 2014:

Sat Apr 19 2014:

Sun Apr 20 2014:

Mon Apr 21 2014:

Tue Apr 22 2014:

Wed Apr 23 2014:

Thu Apr 24 2014:

Fri Apr 25 2014:

Sat Apr 26 2014:

Sun Apr 27 2014:

Mon Apr 28 2014:

Tue Apr 29 2014:

Wed Apr 30 2014:

Thu May 1 2014:

Fri May 2 2014:

Sat May 3 2014:

Sun May 4 2014:

Mon May 5 2014:

Tue May 6 2014:

Wed May 7 2014:

Thu May 8 2014:

Fri May 9 2014:

Sat May 10 2014:

Sun May 11 2014:

Mon May 12 2014:

Tue May 13 2014:

Wed May 14 2014:

Thu May 15 2014:

Fri May 16 2014:

Sat May 17 2014:

Sun May 18 2014:

Mon May 19 2014:

Tue May 20 2014:

Wed May 21 2014:

Thu May 22 2014:

Fri May 23 2014:

Sat May 24 2014:

Sun May 25 2014:

Mon May 26 2014:

Tue May 27 2014:

Wed May 28 2014:

Thu May 29 2014:

Fri May 30 2014:

Sat May 31 2014:

Sun Jun 1 2014:

Mon Jun 2 2014:

Tue Jun 3 2014:

Wed Jun 4 2014:

Thu Jun 5 2014:

Fri Jun 6 2014:

Sat Jun 7 2014:

Sun Jun 8 2014:

Mon Jun 9 2014:

Tue Jun 10 2014:

Wed Jun 11 2014:

Thu Jun 12 2014:

Fri Jun 13 2014:

Sat Jun 14 2014:

Sun Jun 15 2014:

Mon Jun 16 2014:

Tue Jun 17 2014:

Wed Jun 18 2014:

Thu Jun 19 2014:

Fri Jun 20 2014:

Sat Jun 21 2014:

Sun Jun 22 2014:

Mon Jun 23 2014:

Tue Jun 24 2014:

Wed Jun 25 2014:

Thu Jun 26 2014:

Fri Jun 27 2014:

Sat Jun 28 2014:

Sun Jun 29 2014:

Mon Jun 30 2014:

Tue Jul 1 2014:

Wed Jul 2 2014:

Thu Jul 3 2014:

Fri Jul 4 2014:

Sat Jul 5 2014:

Sun Jul 6 2014:

Mon Jul 7 2014:

Tue Jul 8 2014:

Wed Jul 9 2014:

Thu Jul 10 2014:

Fri Jul 11 2014:

Sat Jul 12 2014:

Sun Jul 13 2014:

Mon Jul 14 2014:

Tue Jul 15 2014:

Wed Jul 16 2014:

Thu Jul 17 2014:

Fri Jul 18 2014:

Sat Jul 19 2014:

Sun Jul 20 2014:

Mon Jul 21 2014:

Tue Jul 22 2014:

Wed Jul 23 2014:

Thu Jul 24 2014:

Fri Jul 25 2014:

Sat Jul 26 2014:

Sun Jul 27 2014:

Mon Jul 28 2014:

Tue Jul 29 2014:

Wed Jul 30 2014:

Thu Jul 31 2014:

Fri Aug 1 2014:

Sat Aug 2 2014:

Sun Aug 3 2014:

Mon Aug 4 2014:

Tue Aug 5 2014:

Wed Aug 6 2014:

Thu Aug 7 2014:

Fri Aug 8 2014:

Sat Aug 9 2014:

Sun Aug 10 2014:

Mon Aug 11 2014:

Tue Aug 12 2014:

Wed Aug 13 2014:

Thu Aug 14 2014:

Fri Aug 15 2014:

Sat Aug 16 2014:

Sun Aug 17 2014:

Mon Aug 18 2014:

Tue Aug 19 2014:

Wed Aug 20 2014:

Thu Aug 21 2014:

Fri Aug 22 2014:

Sat Aug 23 2014:

Sun Aug 24 2014:

Mon Aug 25 2014:

Tue Aug 26 2014:

Wed Aug 27 2014:

Thu Aug 28 2014:

Fri Aug 29 2014:

Sat Aug 30 2014:

Sun Aug 31 2014:

Mon Sep 1 2014:

Tue Sep 2 2014:

Wed Sep 3 2014:

Thu Sep 4 2014:

Fri Sep 5 2014:

Sat Sep 6 2014:

Sun Sep 7 2014:

Mon Sep 8 2014:

Tue Sep 9 2014:

Wed Sep 10 2014:

Thu Sep 11 2014:

Fri Sep 12 2014:

Sat Sep 13 2014:

Sun Sep 14 2014:

Mon Sep 15 2014:

Tue Sep 16 2014:

Wed Sep 17 2014:

Thu Sep 18 2014:

Fri Sep 19 2014:

Sat Sep 20 2014:

Sun Sep 21 2014:

Mon Sep 22 2014:

Tue Sep 23 2014:

Wed Sep 24 2014:

Thu Sep 25 2014:

Fri Sep 26 2014:

Sat Sep 27 2014:

Sun Sep 28 2014:

Mon Sep 29 2014:

Tue Sep 30 2014:

Wed Oct 1 2014:

Thu Oct 2 2014:

Fri Oct 3 2014:

Sat Oct 4 2014:

Sun Oct 5 2014:

Mon Oct 6 2014:

Tue Oct 7 2014:

Wed Oct 8 2014:

Thu Oct 9 2014:

Fri Oct 10 2014:

Sat Oct 11 2014:

Sun Oct 12 2014:

Mon Oct 13 2014:

Tue Oct 14 2014:

Wed Oct 15 2014:

Thu Oct 16 2014:

Fri Oct 17 2014:

Sat Oct 18 2014:

Sun Oct 19 2014:

Mon Oct 20 2014:

Tue Oct 21 2014:

Wed Oct 22 2014:

Thu Oct 23 2014:

Fri Oct 24 2014:

Sat Oct 25 2014:
Write your own review