The Wizard of Oz (U)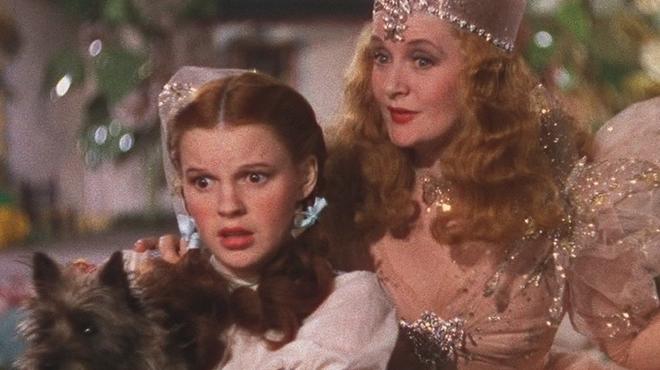 Time Out says
Posted: Tue Dec 12 2006
It's like a Pavlovian reaction. I know it's coming but I can do nothing about it. The strings swell for the introduction to 'Over the Rainbow' and already I'm wavering.
Judy Garland
gets a few lines into the song and I'm emotional wreckage. Every single time…
Oh, but this is supposed to be some creaky old kids' movie, a charming relic of vintage MGM showmanship, full of chirpy songs and midgets and a wee dog. Not to be taken to heart, surely? Well, intellectually that may be so, but this is one instance where the vagaries of cinematic fashion simply don't apply. Like Chaplin's 'The Kid' or 'ET The Extra-Terrestrial', 'The Wizard of Oz' simply lays bare primal emotions, exposes our childhood anxieties about abandonment and powerlessness and brings to light the tension between the repressive comforts of home and the liberating terrors of the unknown marking all our adult lives.
After all, who wouldn't, like Dorothy, want to leave black-and-white Kansas farmland, where the people are lovely but they just don't understand you, and try your luck in the jolly old land of Oz, where life is lived with the magically fervid intensity of three-strip Technicolor? Yet with the thrill of escape and the cusp of maturity come all sorts of insecurities: what if you can't ever go home again? What if the adults in whom you put your faith can't help you because they're too busy with their own fallibilities? What if, like those you meet, you're not sufficiently smart, courageous or emotionally astute to deal with this brave new world? And what if it contains cackling, cruel individuals bent on doing you harm? What then? Put it like that, and maybe the film wrings tears from grown-ups because it hot-wires us to the pain of growing up.
Garland's performance is key here. She was 17 at the time, and although the vestiges of childlike innocence are still there, she conveys an undertow of trepidation, put across with the adolescent's jangling nerve-ends. The cheesy, insentient bravado of a moppet-ish child actor would have ruined it completely. Yet you can't imagine Garland, or anyone else in the splendid cast of vaudevillian pros, being self-conscious about the timeless significance of what they were doing. This was just another studio shoot, and although masterly craftsmanship's evident in every frame and every bar of Harburg and Arlen's wonderful score, the production lurched from crisis to crisis. A string of directors included King Vidor and George Cukor as well as credited journeyman
Victor Fleming
, while Toto was out injured for two weeks when somebody stepped on him, Wicked Witch
Margaret Hamilton
got badly burned when she went up in a puff of smoke and the first Tin Man wound up in hospital with aluminium poisoning.
What they left us with, though, is celluloid alchemy of the highest order. Kids will continue to love this movie, but perhaps only adults really get it. See this luminous restoration and rediscover the power of truly great storytelling to reveal us to ourselves. Just follow the Yellow Brick Road…
Author: Trevor Johnston
Release details
Rated:
U
UK release:
Fri Dec 15, 2006
Duration:
101 mins
Cast and crew
Director:
Cast:
Songs:
Art Director:
Editor:
Cinematography:
Screenwriter:
Producer:
Users say
<strong>Rating: </strong><span class='lf-avgRating'>0</span>/5