Five things you didn't know about AlunaGeorge
Classy pop duo Aluna Francis and George Reid dish their toilet gossip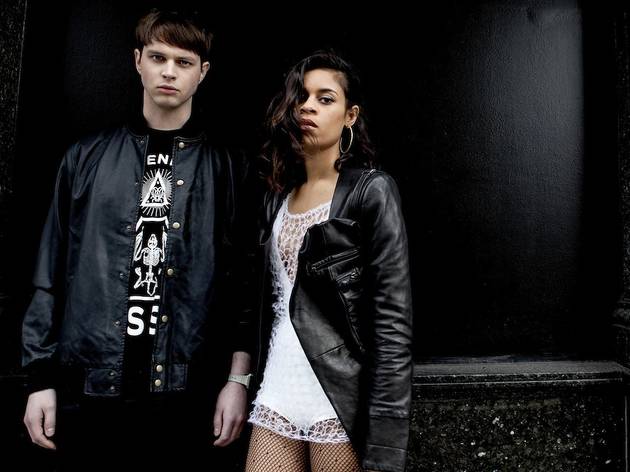 1. They get 'snubbed' by pop stars needing a wee
Aluna: 'I met Frank Ocean recently and told him how much I loved his music. He responded with: "Cool, yeah, I really need the toilet." I was wearing such a pretty dress as well.'
2. Girls – Aluna loves your sweat

Aluna: 'It's great to see girls sweating! Girls don't sweat enough or show off their dripping faces.'
3. George is oh-so honoured to have a famous fan
George: 'I had a Björk poster on my wall when I was young. It was slightly ridiculous when we found out that she was a fan of our music.'
4. They don't mind being tied into a London scene

Aluna: 'We're always being told we're part of a movement. It's a London movement and it's prolific: Bondax, Disclosure, Rudimental and Jessie Ware are in it – basically anyone making electronic music. It's flattering.'
5. Their friends find their music, ahem, moving…

George: 'I had a message from a couple of friends who were in the toilet at a service station and heard our music while they were pooing. They were like: "I heard your tune, I was totally taking a shit at the time."'
AlunaGeorge's debut album 'Body Music' is out on Monday July 29. Buy the album here.
See AlunaGeorge live in London
Fast-rising London duo Aluna Francis and George Reid return with more woozy, warm, futuristic soul-pop. Thanks to a canny collaboration with bass boundary-pushers Disclosure they reached Number Two in the charts a couple of years ago, and their debut album 'Body Music' nicely balanced underground cred with pop clout, so we're keen to hear what they've been up to since then.
Read more
See all AlunaGeorge gigs