James Blake interview
His second album is inspired by a Transatlantic love affair, but the 24-year-old singer is more calm and collected than head over heels
By Jonny Ensall Tue Apr 9 2013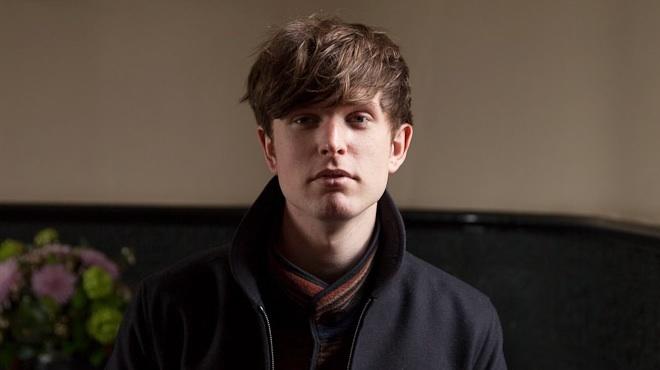 © Muir Vidler
James Blake would make a really good counsellor, if he ever decided to give up music. His slightly down-turned lips and soft mop of hair make him look sombre and empathetic. He's infectiously calm, doesn't open his mouth without knowing exactly what he wants to say, and listens with an intensity that elicits secrets. I feel the need to tell him about my love life, and a previous long-distance relationship that didn't end well. 'Did that prepare you better to say goodbye finally?' he asks me, about the emotional strain of constantly coming and going. 'That you'd already gone through little training exercises for it?'
'I enjoy the kind of constant environment change'

If Blake does have an ulterior motive for teasing out insights, it's that he's currently doing long-distance with his girlfriend in LA. 'The airport has become a familiar scenario,' he admits, as we sit down for lunch in a Primrose Hill pub. It's her presence that casts a pale shadow over Blake's newly released second album, 'Overgrown', on which he shies away from the dubstep wobbles of his self-titled debut and sings with even greater tenderness. How is he finding all the travelling?

'For better or worse I enjoy the kind of constant environment change. It's a bit of a spin-out in some ways, but that is what leads you to using your time well.' The relationship hasn't just taught Blake to write on the move – he sings in his head and types lyrics into his iPhone – it's also made him want to get better at several other things. 'Making coffee, playing chess, being a better person. You know, being able to actually reach out to somebody and make them feel like I'm engaging with them.'
'Brian Eno told me to take the "arsehole chord" out. It's a chord that you'd only play if you were an arsehole pianist'

Blake's success with his debut took him across the world, and led to him meeting and collaborating with fans including The RZA, Kanye West, Joni Mitchell, Justin Vernon (aka Bon Iver) and Brian Eno. Yet, despite being at the top of his game, with money in his pocket, a London club night (1-800 Dinosaur at Shoreditch's Plastic People) and a mere 24 years life experience to reflect on, he's not let success go to his head. Fame has mellowed him in fact, and those collaborators have helped bring Blake even further down to Earth.

'Brian Eno told me to take the "arsehole chord" out of "Retrograde"' he says, of working with the ambient music guru at his London home. 'It's a chord that you'd only play if you were an arsehole pianist – playing it because you can. He spotted it straight away.

'I had quite a few ideas when I was there, he just helped guide and direct. It's the opposite of me going to the studio and having a guy just packaging it – he actually nurtures those moments of clarity and makes them into something beautiful, as opposed to something obtuse.

Blake's apparent Zen is quite Eno-esque. He seems unflappable – until he reveals he wrote a poem on the way to the interview. 'I was on the train. I could read you it…' Suddenly he changes his mind, and shows a flash of shyness. What's it about? 'A phone call I had last night which didn't leave me in the best mood.' With his girlfriend? 'Yes. I just had some stuff to say about it and instead of making the situation worse by talking further, I decided to write to myself. I like doing that – it's a good way of avoiding unnecessary confrontations. It's a shit poem anyway, so there's no point.'

I doubt very much that the poem is shit, but it's nice to see some ripples pass across the pond of Blake's composure. It shows that – as with his music – there's something dark rumbling below the surface.

'Overgrown' is out now. Buy the album here.
---
---
Arcade Fire, Blondie, Dolly Parton, Elbow, Disclosure, Kasabian, Jack White, Rudimental, The 1975, Kelis, Warpaint, James Blake, Little Dragon, The Black Keys, Robert Plant, Lily Allen, Metronomy, London Grammar, Jurassic 5, De La Soul, Chvrches, Jagwar Ma, Lana Del Rey, Skrillex, Pixies, Massive Attack, MIA, Angel Haze, Four Tet, MGMT, Jake Bugg + more After all tickets sold out in record time (under two hours) last year, the Big Daddy of UK festivals lands once again in 2014, taking over a bloody huge chunk of Somerset with music, mischief, hippies, healing and a lot of cider. It's difficult to convey quite how vast Glasto is, with whole worlds of activity taking place outside the arena as well as an awe-inspiring musical lineup. Arcade Fire revealed they'll be headlining the Friday night and Dolly Parton performs on Sunday, but as ever the real fun comes from listening (and adding) to the rumour mill that goes into overdrive in the run-up to the festival. Lily Allen claimed she'll be playing, and other names being tossed playfully around include Kasabian, Metallica, Outkast, Foo Fighters and, most excitingly, Prince, plus many more. Bowie...? Pft. As if. But hey, you never quite know with Glasto. You can hear everything from pop to reggae to art rock to dubstep to metal to folk to techno at Glastonbury, so bring an open mind, wellies and a sense of humour, and prepare for mud and madness. And if you haven't got a ticket – better luck next year.
See all James Blake events in London
Listen to James Blake's album 'Overgrown'