Kodaline – 'In a Perfect World' album review
Emotive and honourable, the Irish band's debut is one for wistful souls
By Edward Evison Fri Jun 14 2013
Time Out Ratings
<strong>Rating: </strong>3/5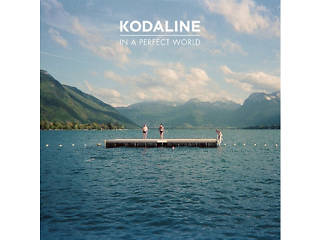 Kodaline, who describe themselves as 'four lads in a band', are an understated lot – a Dublin-based group of childhood friends, they maintain the modest aim of using music as therapy, with the hope of 'touching as many people as possible'. It might seem wet, but this debut album is emotive, and honourable in its goals.
'In a Perfect World' opens with two melodic summer anthems: the soaring, Kings of Leon-alike 'After The Fall', and the slower, yet equally euphoric 'All Comes Down To'. Kodaline then go on to showcase their versatility with two unforgettable tearjerkers, 'All I Want' (the video for which has over three million views online), and 'High Hopes'. Feel-good, folksy tunes like, 'Way Back When' and 'Love Like This' make this a mixed bag of emotional highs and lows. Kodaline's vision is, perhaps, not everyone's idea of a perfect world – one in which people's feelings are constantly spilling out, carried on waves of tears – but for many wistful souls, this album will feel like finding Utopia.
Watch Kodaline's 'Love Like This' video
These Irish newcomers may not have set out to ape Coldplay's success, but there's certainly a Chris Martin-esque emotional catch in the vocals. Their vaguely-indie pop-rock is nice enough, and looks set to be be pretty much inescapable in the wake of their debut album, 'In a Perfect World'.
See all Kodaline events
---
---
These Irish newcomers may not have set out to ape Coldplay's success, but there's certainly a Chris
Listen to 'In a Perfect World' on Spotify