What's the deal with… Clean Bandit?
Here's everything you need to know about the violin-pop foursome from Cambridge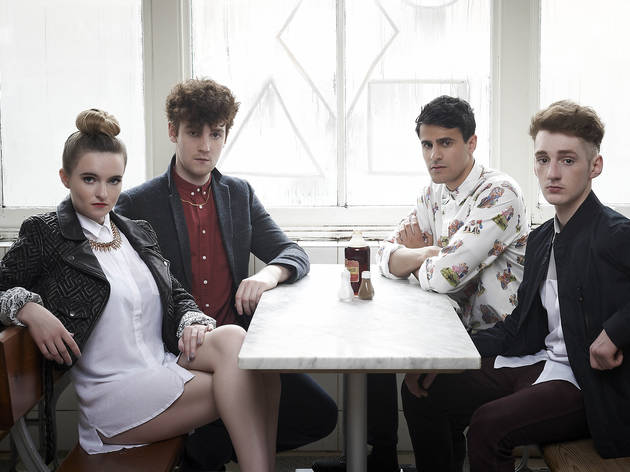 These bandits might be clean, but there's a whiff of something about them.

Ah yes. That would be class.

More like classical…

It's true, half of this four-piece are conservatoire-trained string players. But Clean Bandit start from a basis of thumping house and garage, provided by producer Jack Patterson and his younger brother Luke. Their single 'Mozart's House' is the perfect synergy of eighteenth-century German melodicism and a raucous night out in a local Wetherspoon's.

It's about time someone brought Radio 3 values to Rinse FM!

'So you think electronic music is boring? You think it's stupid? You think it's repetitive?'

Hold up, I never said that.

No, I was quoting Patterson senior on 'Mozart's House'. The group's self-aware sense of humour reveals their roots as super-smart Cambridge undergraduates.

Oh, they went to Cambridge, yah?

Yah! I mean yes. As did members of Hot Chip, in whose footsteps this quartet are follow.

The Bottom Line: Not stupid, nor boring, nor repetitive.
See Clean Bandit live
It takes a lot to get us to flutter our eyelashes at a city other than wonderful London, but recently we've been tempted to floozy around with a different metropolitan area: Gorgon City. Okay, it's not actually a place, it's production duo Kye Gibbon and Matt Robson-Scott – making some of the sharpest, most on-point club music around. But it's not just clubbers who are digging Gorgon City's take on house music. Working as producers for big-draw crossover acts like Clean Bandit and Klaxons has opened up their music to a huge pop audience. They even bowled straight into the UK Singles Chart at Number Four with the soulful 'Ready for Your Love', featuring house vocalist and songwriter MNEK. You can hear the duo break out the beats and basslines when they headline a huge show here, with a crew of special guests in tow. Take a trip to Gorgon City now: it's this year's city break of choice.
Book now
This week, east London is going to be teeming with Black Butter. Not the acidic, cider and liquorice-infused delicacy popular in Jersey – that would be weird, sticky and probably dangerous – but in fact the tastemaking London record label that's released tracks from some of the hottest UK electronic and pop talent, including Rudimental, Jess Glynne, Clean Bandit, My Nu Leng and Kidnap Kid, to name but a few. Now, the label is going east and throwing two huge club nights in its Black Butter x East London Series, one at XOYO in Shoreditch on Thursday, followed by a bash at Shapes in Hackney Wick on Saturday. As is the Black Butter tradition, the full line-ups for both events are top secret, but let us assure you that the roster for the two parties is absolutely on-point, featuring live performances and DJ sets from all kinds of Black Butter family and friends, who'll be blasting out drum 'n' bass, R&B, house, grime, reggae, bass and much more. Read more about the Black Butter x East London Series.
See all Clean Bandit events