Marcus du Sautoy interview
Maths professor Marcus du Sautoy reveals the secrets of Mozart's Masonic opera 'The Magic Flute'
By Jonathan Lennie Tue Apr 16 2013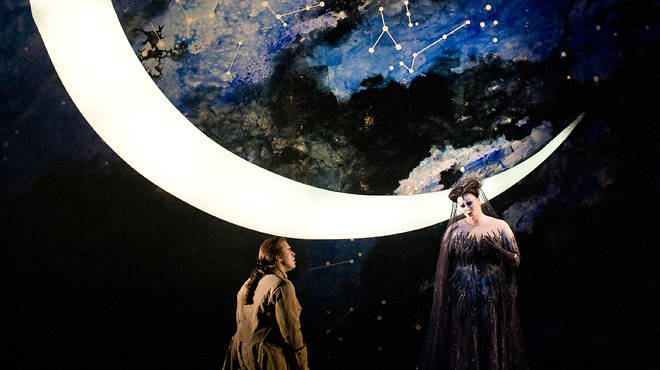 Marcus du Sautoy puts the maths in Mozart
Marcus du Sautoy is a maths enthusiast and, in his role as Oxford University's Professor for the Public Understanding of Science, often employs his other passions to engage the public with the science of numbers. These include playing the trumpet, football and opera; and it is the latter to which he turns as he explores Mozart's 'The Magic Flute'. Written just months before the composer died in 1791, it is reputedly full of hidden mathematical symbolism, arcane nods to the Masonic Order of which he was a member. This week, du Sautoy will attempt to unravel them through a short series of interactive performance lectures, involving professional singers enacting scenes from the opera and audience participation.
Do you see numerical patterns in everything?
'Well, I'm obviously attuned to pick up mathematics whenever I can see it. But in Mozart there is a lot of conscious use of mathematical symbolism and numbers in order to try and give messages.'
What is the opera about?
'It is a strange kind of work. It is about love, but also a change of political and musical order and you really see the way Mozart uses this idea of moving from the night into the sun; dark to light.'
Was it intended to be politically subversive?
'Yes. We are in the period building up to revolutions in Europe; and the Masonic Order was really a political challenge to religion, even though Mozart was a religious man. It was the idea of the Enlightenment that science was primary to society. One of the Masonic orders that was suppressed by authorities was The Illuminati, and Mozart was certainly in contact with its members.'
What is the principal mathematical symbolism in the opera?
'The number two is important because you have all these opposites (sun/moon, day/night, fire/water, gold/silver). But, then, three is also a very important to Mozart because it is a very Masonic number. There are a lot of three rhythms – the knocks on the door that Mozart would have heard when he was being initiated into the lodge - that are heard in the overture, and there are a lot of threes within the cast – three women, three boys, three temples in Sarastro's court. My next important number is five, because for the Masons, the five-pointed star hid inside it the idea of the Golden Ratio, which was important in architecture.'
It's an interactive show. Will the audience be doing calculations?
'No, I don't want to put people off. It is very much a playful thing. We are going to be constructing some geometric shapes; geometry is very important to the Masons and so there will be a task to construct a tetrahedron and an icosahedron, which are the geometric symbols for fire and water. I hope that, after an hour, people will feel they've joined a new order. That they will have seen the light and come to appreciate the ideas of mathematics and how they might connect with things beyond the mathematical world.'
What is the connection between football and opera?
'Both are art forms when you support Arsenal…'
Can you analyse football scores as well as operatic scores?
'No, more the way the game is played. Rather than opera, football is more like ballet or a chess game. You can really see it in a team like Arsenal, especially when Dennis Bergkamp was playing. He seemed to be able to read the game like a chessboard and knew where a player would be several seconds later and put the ball there for him. And there is the geometry on the pitch. The style that Arsenal and Barcelona play is about creating an efficient network of triangles across the pitch; it is just a thing of beauty. And as long as our number is bigger than theirs, I don't mind, really, how we do it.'
---
---