Argo (R)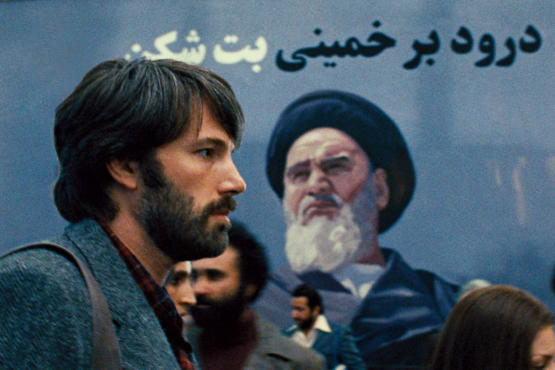 Time Out rating:
<strong>Rating: </strong><span class='lf-avgRating'>3</span>/5
User ratings:
<strong>Rating: </strong><span class='lf-avgRating'>1</span>/5
Rate this
Time Out says
Posted: Tue Oct 9 2012
Heroic CIA movies? You're not going to find scads of them—they're harder to locate than yellowcake. Maybe it says something that a rare example, 2002's The Sum of All Fears (i.e., the film that nuked Baltimore), starred lantern-mugged Ben Affleck, then a rising leading man. Ten years later, Affleck has found real respect as a director of tough criminal dramas like Gone Baby Gone and The Town. Here, he commits his impressive momentum to a slight, true-life tale of covert intelligence with a happy ending. Let's hope he's not moving backward: Argo plays closer to comedy than any movie about the Iranian hostage crisis probably should. The scenario already feels half-remembered from another film, as operative Tony Mendez (Affleck, playing a Latino) hatches a scheme to spring six trapped Americans, hidden at the home of the Canadian ambassador, by pretending to be a big-shot Hollywood producer scouting a Star Wars–like sci-fi flick in the desert.
Quickly, we're in Hollywood, where Planet of the Apes makeup legend John Chambers (John Goodman) and gruff negotiator Lester Siegel (Alan Arkin) are happy to wag the dog along with Mendez, creating believable buzz for a blockbuster that will never exist. Out in the audience, you never shake the feeling—partly intentional—that Argo itself is swaddled in a kind of phony ersatzness. These '70s beards and polyesters look straight out of a high-school play, while the snatch-and-grab op in the Middle East is mounted with as much moneyed sheen as Spielberg's Munich. No performances stand out, which is a shame given Affleck's track record with actors. Ultimately, it comes down to a
chase to the airport, with a scary Revolutionary Guardsman at the gate. Affleck is free to stretch in any direction he wants as a filmmaker, but if he'd made this one first, his new career wouldn't seem so redemptive.
Follow Joshua Rothkopf on Twitter: @joshrothkopf
Author: Joshua Rothkopf
Users say
<strong>Rating: </strong><span class='lf-avgRating'>0</span>/5