Interview: Woody Allen on Blue Jasmine
In a private chat, the writer-director discusses money, status and Cate Blanchett's seismic performance.
By Joshua Rothkopf Thu Dec 12 2013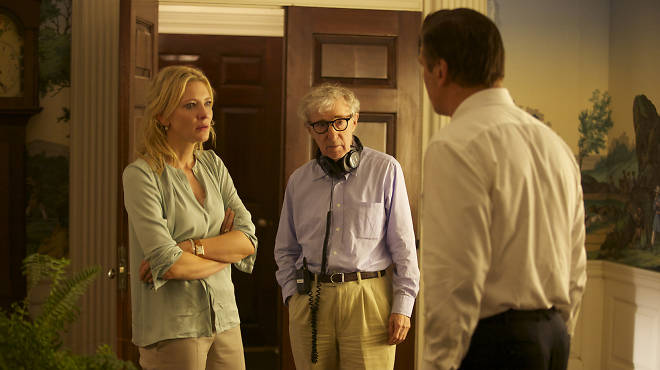 Ever since it opened to raves in July, Woody Allen's Blue Jasmine has figured massively in the awards horse race, particulary in the category of Best Actress: Cate Blanchett's turn as an unperched Manhattan socialite has been considered the unquestioned front-runner. Allen, per his long-standing custom, has done virtually nothing to personally promote the film. (Even when he wins Oscars, he's never there to accept them.) Call this critic happily surprised, then, that he and two others—Variety's Scott Foundas and Entertainment Weekly's Owen Gleiberman—were invited to Allen's Park Avenue editing suite for an exclusive sit-down with the director. Our lengthy discussion touched on many aspects of Blue Jasmine, along with Allen's general filmmaking process and wider concerns. Finally, the Woodman showed us his extensive vinyl collection, the source of so many memorable jazz cues from his movies. Sheepishly, he admitted the records aren't in any particular order. Below are several audio clips from our interview.
Intro
Blue Jasmine, an American story
On Cate Blanchett
On empathy for characters
On identity and loss
On money and status
On trauma
On blue jazz
On the joy of filmmaking
You might also like
---
The best films now showing
Rated as: 5/5
Critics choice
Jake Gyllenhaal goes bug-eyed as a crazed opportunist who finds his calling as a vulturelike collector of crime footage, in screenwriter Dan Gilroy's thrilling directorial debut.
Rated as: 4/5
Critics choice
Since the late '70s, the Mekons have maintained an unusual durability, especially in the context of punk peers. Their story, well-unpacked here, is unexpectedly moving.
Rated as: 4/5
Critics choice
At the ripe old age of 83, Jean-Luc Godard embraces the head-spinning potential of 3-D in this free-form provocation, with subjects ranging from Frankenstein to dogs.
See more Time Out film reviews