Oscar predictions for 2014
Time Out looks at the contenders for the 2014 Academy Awards
By Time Out editors Sun Jan 12 2014
RECOMMENDED: See all Oscars coverage
Best Picture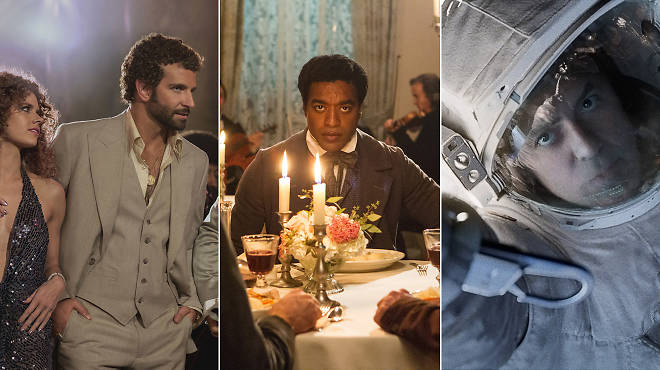 Will win
American Hustle
Should win
12 Years a Slave

Should have been nominated
The Great Beauty

The frontrunner
It truly is a three-horse race for Best Picture. Steve McQueen's 12 Years a Slave is a drama both brutal and uplifting—right in the Academy's wheelhouse. No one could deny that it's an important film, and a beautifully made one. But sneaking up on the inside is American Hustle, precisely the kind of gorgeously mounted fluff that the Oscars just love to give surprise awards to (remember Chicago?). David O Russell's crime caper sports stunning costume design, whip-smart dialogue and terrific performances, which, given the huge number of actors who vote in this category, could well swing the vote in its favor.
But let us not overlook Gravity, which has had critics and audiences swooning, and has plenty of momentum following a pair of BAFTA wins (for Best Director and Best British Film). If the Academy decides to court the multiplex vote, this is the one they'll pick.
Possible spoilers
12 Years a Slave may simply prove too heavy going for the Academy's old-timer voters. It's hard to imagine them relishing the idea of being lectured on their nation's historical crimes by a foreigner—especially a Brit. American Hustle is fizzy and fun, but will its lack of substance leave it wanting? And Gravity may be the popular choice, but the big prize has never gone to a sci-fi flick before.
Who else is nominated?
AIDS drama Dallas Buyers Club may sport strong performances and powerful subject matter, but the film just isn't impressive enough. The Wolf of Wall Street is probably too brash for Oscar tastes—too many drugs and hookers, not enough lesson-learning. And the lack of a Best Actor nod for Tom Hanks in Captain Phillips means that film is clearly not uppermost in the Academy's hearts and minds.
Nebraska, Her and great British hope Philomena are the kind of spry, indie-ish character pieces that always pick up nominations but rarely grab the big prize (bearing in mind, we said the same thing about The King's Speech a couple of years back).
You might also like
---
The best films now showing
Rated as: 4/5
Critics choice
Benedict Cumberbatch shines in this gripping biopic about a brilliant man who saved England from WWII, but failed to save himself from England.
Rated as: 5/5
Critics choice
A grieving widow and her troubled son are terrorized by the monster from a pop-up storybook in Aussie filmmaker Jennifer Kent's horrifying and absolutely confident first feature.
Rated as: 4/5
Critics choice
Jennifer Lawrence goes impressively fierce for this penultimate chapter.
See more Time Out film reviews