Raw deal
Anthology celebrates New American Cinema's lost saint Shirley Clarke.
By David Fear Thu Apr 23 2009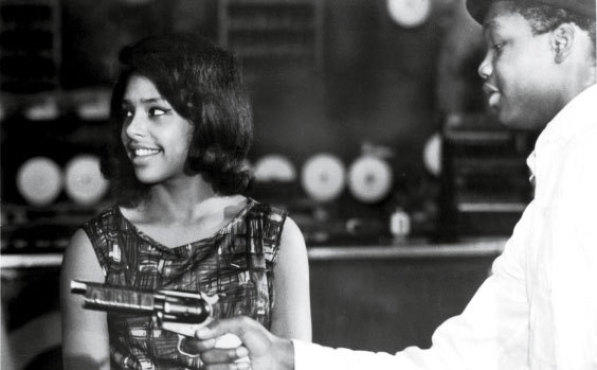 OVER A BARREL Clanton impresses his date with quick-drawing skills in The Cool World.
Film history is filled with a depressing number of groundbreakers and great artists who simply fell through the cracks. You can ponder potential reasons why New American Cinema pioneer Shirley Clarke isn't consistently mentioned among the giants of modern indie moviemaking; certainly a lack of circulating prints, her long detour into avant-video happenings and a notorious no-tolerance-for-bullshit attitude (especially regarding labels) might figure into the mix. But when you consider that John Cassavetes is deified by the Sundance crowd, and even Ruth Orkin and Morris Engel have been granted the DVD box-set treatment, the fact that Clarke still gets short shrift is criminal. Anthology Film Archives' weeklong corrective retrospective, "The Films of Shirley Clarke," may not change the tides of opinion en masse, but once you've seen this vital, vibrant body of work, her name will certainly be permanently etched into your consciousness.
Clarke's early toe-dips into film were strongly informed by her training as a dancer; the way she seamlessly edits between movements from two different Daniel Nagrin performances in "Dance in the Sun" (1953) already suggests a keen grasp of how music and movement complement each other on celluloid. After a number of brief experimental works and expressionistic cityscapes, Clarke took on Jack Gelber's play The Connection and, using the then-recent Living Theatre production as a starting point, made her 1962 feature debut a gritty, ugly look at boho druggie life. While jazz musician Jackie McLean jams and junkies wait for their pusher, played by Clarke's soon-to-be companion Carl Lee, the filmmaker kicks things into the meta: A documentarian on the scene realizes that, in his search for "truth," he needs to either shoot up or shut up. (Guess what he picks.)
An intriguing mixture of staged improvisations and faux-vrit trickery, The Connection suggests a unique vision is coming into focus, even though its crude attempts at manufactured edginess seem slightly dated. Her next two films, however, need no caveats: Both The Cool World (1964) and Portrait of Jason (1967) retain their blunt impact and their rough brilliance. The former is a free-form drama about a young gang member (Hampton Clanton) dealing with everyday violence and despair; shot on the streets of Harlem, Clarke's portrayal of dead-end desperation is ground zero for Gotham neorealism and a peerlessly unfiltered look at the neighborhood in the mid-'60s. Its follow-up, a first-person testimonial from a gay African-American hustler named Jason Holliday, simply trains the camera on its subject and lets him speak. That's more than enough, given Holliday's gifts for gab and vamping (he's got a killer Mae West impersonation). Once again, the director pushes formal boundaries and offers a platform for society's marginalized to tell their stories; now that you've been given a chance to experience these rarities firsthand, you have no excuse not to listen.
runs through Tue 28 at Anthology Film Archives.