RIP, Bob Hoskins
The beloved actor has sadly died at the age of 71, after a two-year battle with Parkinson's disease
By Calum Marsh Wed Apr 30 2014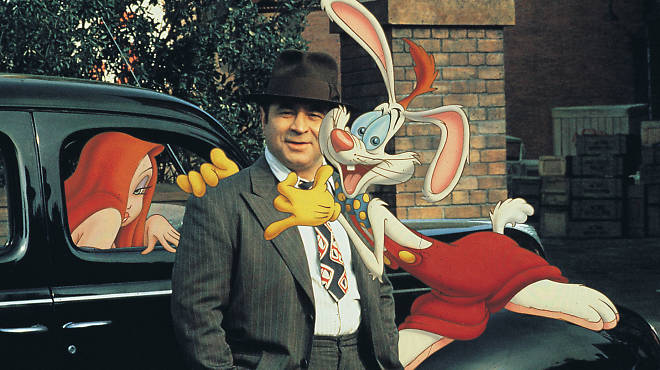 In 1988, Bob Hoskins starred in Robert Zemeckis's Who Framed Roger Rabbit, a partly animated Chinatown parody that was equal parts hard-boiled film noir and Saturday morning cartoon. It's a very unusual film: One minute it's addressing a real-life conspiracy about the dissolution of the Los Angeles transit system in the 1940s, and the next minute it's whisking its heroes off to Toontown to pal around with Mickey Mouse and Bugs Bunny. But at the center of it all is Hoskins, the grizzled noir hero, the hard-drinking private eye, who dared to take a silly role seriously. Ridiculous comic antics? Yes, he could do that: Midway through the film, he hurls himself into a demented bout of song and dance (and self-harm) worthy of Jerry Lewis. But he could also do dry wit, pathos, despair, unbridled rage and resignation—sometimes within the span of a single picture.

Because he didn't look like an ordinary matinee-idol movie star, our mental picture of Hoskins is specific. But versatility was his gift: He was as comfortable playing Nikita Khrushchev or J. Edgar Hoover as he was Super Mario. He could shine as well on television as in movies, as he did most memorably in Dennis Potter's Pennies from Heaven and the BBC's production of Othello, in which he costarred as Iago. He could impress himself indelibly in a supporting role, as he did in Terry Gilliam's Brazil, and he could, if necessary, carry a picture more or less all on his own, invigorating all manner of mediocrity with his intensity. He remains best remembered, of course, for his star-making turn at the heart of John Mackenzie's The Long Good Friday, which ranks among the greatest of all British crime films largely for his thunderbolt of a performance. Hoskins played English gangster Harold Shand as a man bristling with pain—not so much angry, crucially, as enervated, exasperated, with the weight of lived experience. There's something boiling in him and you can see it in his eyes. That was the greatness of Hoskins: He could show you, wordlessly, a man wracked with pain, guilt, a history of suffering. He could show you chaos and control. He could show you contradictions.
---
Send tips and cat photos to:
Editor: Marley Lynch (@marleyasinbob)
marley.lynch@timeout.com
@TimeOutNewYork
Subscribe to Time Out New York on Spotify for playlists and recommendations from our Music team.


Check out New York's best restaurants, hottest street style, cool apartments and more.