Toronto International Film Festival 2012: To the Wonder, What Maisie Knew
Marriage hits the rocks in two emotional powerhouses.
By Joshua Rothkopf Tue Sep 11 2012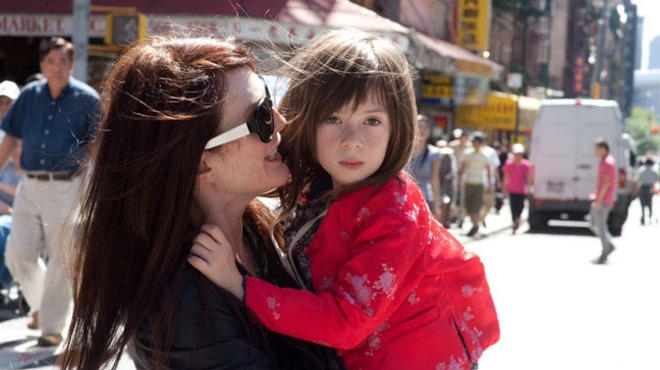 Julianne Moore and Onata Aprile in What Maisie Knew
I can understand the mixed response to Terrence Malick's typically gorgeous To The Wonder, but I can't agree with it—the movie's full of feeling. Unlike The Tree of Life, steeped in a nostalgia that suits this director's style almost too well, his latest takes a harder, more immediate path to the subject of a contemporary marriage, unraveling over time. Intriguingly, Malick's never worked out of period until now; maybe it's the swaddling of a modern-day Oklahoma couple's banal disagreements in glorious magic-hour lushness that's raising cynics' hackles. These viewers are missing a major evolution: Through the presence of two unusually attractive (yet largely silent) leads—Ben Affleck and the glowing Olga Kurylenko as a French transplant—Malick is channeling the high-toned tragedies of Michelangelo Antonioni and Godard's Contempt, while making himself more romantically relevant than he's been for a while, maybe since 1973's Badlands. "A love that loves us" is what the characters yearn for in voiceover; their overflowing rapture—even in the supermarket—fades into harsh pushing, Econo Lodge infidelity and separation. Javier Bardem's local priest, searching for a lost spiritual grace, is a subplot I didn't require, but his sincerity is touching. The movie feels like one of Malick's beloved birds, touching down and flitting off like the resonance between unlucky spouses. Malick feels younger here, more modern, more alive.

RECOMMENDED: Full coverage of the Toronto Film Festival

Following this one up with the upsetting divorce drama What Maisie Knew wasn't the best idea in retrospect—the festival can sometimes trap you in weird emotional bubbles. Almost two decades ago, codirectors Scott McGehee and David Siegel knocked me out with the 1993 antithriller Suture, a b&w identity nightmare that scraped the far edge of psychological breakdown. Their precision remains a thing of beauty, even in a story set in messy, domestic Manhattan, where sad-eyed seven-year-old Maisie (Onata Aprile, another great child performer in an extraordinary year for it) looks on as her world crumbles. The adults—touring rocker Julianne Moore and globe-hopping art dealer Steve Coogan—are terrible at parenting, with an evaporating sense of duty that will enrage you. The movie is so tough and true with the details of absence, inconvenience and accidental hurt, that when a secondary couple—the two new lovers of the divorcing couple—connect with Maisie and, ultimately, each other, you resent the film for tidying up too much. But this is strong stuff, beautifully performed in tricky registers of irresponsibility. Breaking up is hard to do (this well).

Follow Joshua Rothkopf on Twitter: @joshrothkopf
You might also like
---
Film events calendar for New York City
Time Out videos
---
---
Tweets by Time Out NY
Tweets about "@timeoutnewyork"
@TimeOutNewYork
Subscribe to Time Out New York on Spotify for playlists and recommendations from our Music team.


Check out New York's best restaurants, hottest street style, cool apartments and more.