Best of 2013: Best albums of 2013
Our Music team rounds up the year's choicest releases, including LPs from breakout pop stars, resurgent metal titans, country songbirds and, oh yeah, some guy named Kanye West.
By Sophie Harris, Hank Shteamer and Steve Smith Tue Dec 17 2013
Hank Shteamer's top 10 albums of 2013
10. Gorguts, Colored Sands
Veteran Quebecois metal visionary Luc Lemay rebooted his signature project with the help of three hungry young all-stars, setting a new bar for feverish invention and ethereal moodcraft.
Listen to the top tracks from Hank Shteamer's best albums of 2013 on Spotify
---
---
Listen to tracks from 2013's best albums on Spotify
Read more music features
These New Yorkers, who both recently launched new solo ventures, get together for a chat on their home turf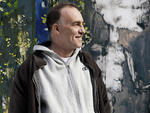 The Lounge Lizard, Jim Jarmusch star and all-around NYC alt legend gets a tribute worthy of his multimedia brilliance
Get ready for a busy season this fall, with shows from arena heavy-hitters to indie gems
See more in Music