Experimental super duos Sal Mineo and Body/Head creep you out on record and onstage
It's a big week for fans of unpop song-making: A pair of new duos, each a team-up of avant-garde heavyweights, hit town behind respective new releases. Here's how they stack up.
By Hank Shteamer Tue Sep 3 2013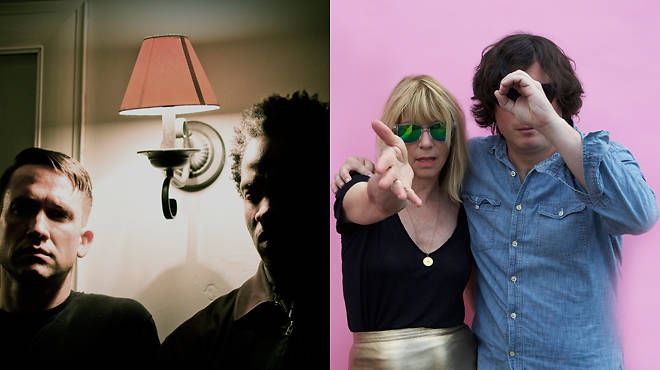 Photographs: Andy Desantis; Annabel Mehran
Note: The September 6 Sal Mineo show at the Bell House has been cancelled.
---

Sal Mineo
Body/Head

---

Who they are:

Imagine an alliance between two notorious indie-film misfits like Todd Solondz and Neil LaBute, and you'll get a sense of the on-paper portent of a joint venture from Jamie Stewart and Eugene S. Robinson, best known for their respective starring roles in Xiu Xiu and Oxbow.

Staking out fresh creative territory following the messy dissolution of both her artistic and romantic partnerships with Thurston Moore, ex–Sonic Youther Kim Gordon has promoted this duo with Massachusetts guitarist Bill Nace—a noise/improv scene fixture—from experimental side outlet to full-time gig.

---

What they play:

Given Stewart and Robinson's formidably messed-up back catalogs, it's hardly surprising that their duo traffics in eerie aural collage. Still, Sal Mineo's mix of stripped-bare art folk, postindustrial ambience and theatrical spoken word summons a rare, ritualistic power.

The outfit's new LP, Coming Apart, is aptly titled: The blend of the pair's six-string crackle-and-hiss and Gordon's haunted moans scans as the sound of a mind, and maybe a heart, unraveling. Even setting aside the wrenching extramusical context, this stuff plays like an exorcism.

---

Where to hear them:
The duo's debut, Sal Mineo, is out now on Important Records, and they play the Bell House Fri Sept 6.
Coming Apart—the first proper full-length from Body/Head, previously heard on a series of vinyl- and cassette-only releases—is out on Matador Tue Sept 10; Gordon and Nace play Union Pool that same night.

---
You might also like
---
Live music calendar for New York City
Another season, another set of reasons to celebrat...

Interpol had a brief moment in the indie-rock lime...

Delight in one of Mexico's most celebrated musical...
25

more events »
Time Out videos
---
---
@TimeOutNewYork
Subscribe to Time Out New York on Spotify for playlists and recommendations from our Music team.


Check out New York's best restaurants, hottest street style, cool apartments and more.