5 noncrappy environmental songs for Earth Day
Get ready for Earth Day with these ecological anthems
By Sophie Harris and Hank Shteamer Mon Apr 21 2014
Earth Day
Hey, fans of being alive, and having a planet to live on! It's Earth Day tomorrow, don't you know? For New Yorkers, the day's events are centered around the street fair in Union Square followed by a free gig, but why not use the day as a means to gently ease yourself into living a teeny bit more green? Or even sign up for one of these ecological volunteer projects? To put you in the mood, we've gathered together an Earth Day playlist—and fear not, Michael Jackson's "Earth Song" doesn't get a look in. No, these are some straight-up, wicked-good songs about what it means to be a human on our little blue planet.
5. "Another World" by Antony and the Johnsons
Sure, you know what you're gonna get with an Antony song—that it's unlikely to be an electro banger, rather it'll be sad, soft and sensitive. But "Another World" (2008) is laceratingly lovely, the singer offering a simple declaration of the things he'll miss once they're gone. Listen, sniffle, then go recycle that Kleenex.
4. "After the Goldrush" by Neil Young
There are your typical dreams of a return to Eden, and then there's this sublimely weird proto–Close Encounters heartstring tugger, in which a spaceship flies "Mother Nature's silver seed to a new home in the sun." This being a Neil Young song, we also get a diaristic detour about a night spent gazing at the full moon, during which our narrator confesses the urge to spark a doobie. Mother Nature's silver seed, indeed…
3. "Big Yellow Taxi" by Joni Mitchell
The master songsmith could've turned her anti-development classic—inspired by a "blight on paradise," a monster parking lot she spied outside her hotel during her first visit to Hawaii—into a preachy rant. But instead she opts for a breezy, upbeat feel and jabs of offhanded satire: "They took all the trees, put 'em in a tree museum / And they charged all the people a dollar and a half just to see 'em." She even works in a kiss-off to a departed lover, suggesting that her "You don't know what you got till it's gone" refrain applies to more than just natural beauty.
2. "Where Do the Children Play" by Cat Stevens
On the surface, the lead track from Cat Stevens's iconic 1970 smash, Tea for the Tillerman, seems like the quintessential tree-hugging hippie anthem. But there's a wryness ("Switch on summer from a slot machine") and ferocity (the chorus belt at 3:16 takes on an almost frightening intensity) to the recent Rock and Roll Hall of Fame inductee's delivery that sets it apart from your average coffeeshop harangue. Besides, that title inquiry is still a pretty damn relevant one for us city dwellers.
1. "Mercy, Mercy Me (The Ecology)" by Marvin Gaye
Silky smooth and effortlessly eloquent, "Mercy, Mercy Me" features on soul hero Marvin Gaye's 1971 landmark album What's Going On—itself a concept album addressing the woes of society. "What about this overcrowded land?" sighs Gaye, "How much more abuse from man can she stand?" Last word goes to the man himself, from an interview with Rolling Stone: "In 1969 or 1970, I began to reevaluate my whole concept of what I wanted my music to say.… I was very much affected by letters my brother was sending me from Vietnam, as well as the social situation here at home. I realized that I had to put my own fantasies behind me if I wanted to write songs that would reach the souls of people. I wanted them to take a look at what was happening in the world."
You might also like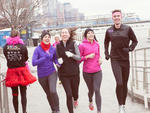 Earth Day events 2013 in New York City
See more blog posts
---
Send tips to:
Editor: Marley Lynch (@marleyasinbob)
marley.lynch@timeout.com
Time Out videos
---
---
@TimeOutNewYork
Subscribe to Time Out New York on Spotify for playlists and recommendations from our Music team.


Check out New York's best restaurants, hottest street style, cool apartments and more.