St. Patrick's Day 2013: A guide to St. Patty's Day in NYC
Whether you want to watch the St. Patrick's Day Parade or just hang out in an Irish pub, here's our guide to celebrating St. Patty's Day in NYC.
By Time Out editors Thu Mar 7 2013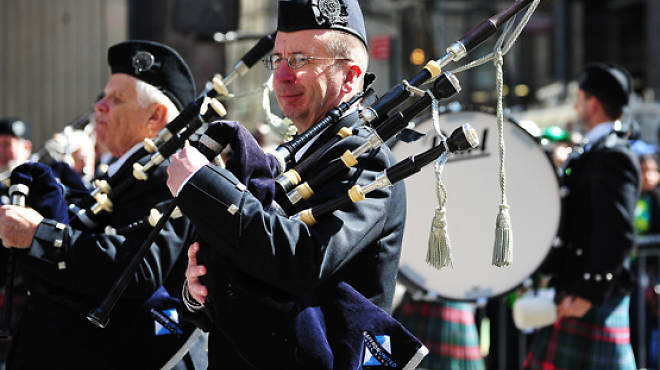 St. Patrick's Day Parade Photograph courtesy of flickr.com/asterix611

Bust out your finest green T-shirts: St. Patrick's Day 2013 is officially upon us. One of the biggest events happening every spring in New York is the annual St. Patrick's Day Parade, which marches along Fifth Avenue—and passes by venerable New York attractions, including St. Patrick's Cathedral and Central Park. (Note: Because St. Patty's Day itself falls on Sunday, March 17, the parade takes place the day before, on Saturday.)

RECOMMENDED: Spring in New York guide

But there are plenty of other ways to celebrate St. Patrick's Day 2013: Read on for our guide to the best St. Patty's Day events, Irish pubs and more.
St. Patrick's Day drinking and dining
St. Patrick's Day events
Prepare yourself for rowdy, Guinness-fueled fun from seminal Chicago Celtic punk band the Tossers, Friday's Craic Festival headliner, then swoon to the sounds of Irish composer and singer (and
Price band: 2/4
Critics choice
Show your Celtic pride (by blood or otherwise) at this annual green-hued crawl, with more than 200 of the city's booziest bars—including Webster Hall, the Village Pourhouse and SideBar—joining the
Irish eyes will smile at Spike Hill's St. Patrick's Day Weekend, a three-day celebration of music and traditional Irish grub and good ol' whiskey and beer. A marathon of (sham)rocking tunes starts at
According to census data from the mid-19th-century, the Lower East Side had more Irish residents than Dublin. That may not be the case these days, but during Big Onion's St. Patrick's Day Irish New
Order a frothy pint and get ready to groove at Freddy's Bar's St. Patty's Day Party. Headliners include jazz-blues group the Blue Boys from Dublin and the Highland Shatners, a '60s-style Celtic-folk
Warm up for your Dublin-style pub crawl (or veg out the morning after) with a liquor-laced, sugar-coated animation bonanza. During the Spoons, Toons and Booze St. Patrick's Day Special at Nitehawk
The Irish Arts Center invites families to an Irish extravaganza, filled with authentic music, dances, workshops and atmosphere. Learn to play the tin-whistle, get your face painted, experiment with
Price band: 1/4
Critics choice
Doc Wasabassco tosses a St. Patrick's Day session of burlesque action—and probably plenty of drinking, given the date. Albert Cadabra, Evelyn Finyl, Francine "The Lucid Dream," Foxy Vermouth, Gal
Dodge the boozy crowds of Manhattan's Fifth Avenue parade and head to Brooklyn for its street celebration of all things Irish. If you family wants to march (good luck!), assemble at noon at Prospect
Prospect Park Prospect Park West to Flatbush Ave, between Prospect Park Southwest and Ocean Ave
Until Sun Mar 17
More info
Price band: 2/4
Critics choice
Celebrate the shamrock-pride holiday with a flight of the finest spirits from Éire (Knappogue single-malt, Clontarf blended Irish whiskeys) at FiDi's Irish-inflected grog den the Dead Rabbit.
Even though St. Patrick's Day officially takes place on March 17, Brooklyn-based broods can keep the fun going by rounding up the crew for the 19th annual Bay Ridge St. Patrick's Day Parade later in
See more Events & Festivals
St. Patrick's Day in video
Related St. Patrick's Day stories
Share your thoughts