This is one of Time Out's 100 best bars in Paris. Click here to see the full list.

Has Paris woken up to the temptations of the taco? Apparently so, thanks to this taqueria, with its almost totally expat clientele (English and American rather than Mexican). The tiny white room with its open kitchen, a few stools and communal tables doesn't give a hint of the hip bar behind, where the neighbourhood's youth come to sip margaritas or the house specials, like the guêpe verte [green wasp] (tequila, lime, pepper, cucumber, spices and agave syrup).

On the food front, you have the choice between tacos and tostadas at very reasonable prices (€3 for one, €5.50 for two), full of ground meat or Mexican cheese and vegetables. The tortillas are home made, and the spicy sauce packs quite a punch – it's almost like being in California. Since they're open non-stop (including Sundays), try and avoid the busiest hours.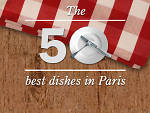 This restaurant serves one of Time Out's 50 best dishes in Paris. Click here to see the full list.