Your ultimate guide to Paris
Discover Paris's best things to do, restaurants, theatre and nightlife
What to do in Paris this weekend
Late nights, long lie-ins and lazy brunches, our guide to what to do in Paris each weekend offers you the absolute crème de la crème of the city, as selected by our local editors.And because weekends should be enjoyed, we've chosen just one unmissable thing for each precious day off (Friday night included). So if there's a hot new opening or special event going down, you'll be the first in the know.
What to do in Paris this week
Get the latest scoop on what's going down in Paris this week. Whether you're after the best new events in arts and culture, music and nightlife, restaurants, shopping and more, our local critics' guide gives you the insider knowledge on what's hot to do this week in Paris.
What's hot in Paris right now
Invalides aux nuit
From July 6 to September 2, 2017, the facades of the interior of Invalides light up to tell the story of Paris's vivid and colourful history. The fifth edition of this summer time festivity promises to be no less spectacular. Using the latest in modern technology, the show produced by Amaclio Productions and created by Bruno Seillier, is sure to deliver an incomparable multi-sensory experience.  Utilising the full extent of Invalides's majesty, the 180-degree projection covers over 250 metres of the building's facade - for an even more immersive event.   Invalides aux Nuit holds events in English on Monday and Thursday nights, meaning English-speakers can fully appreciate the story told behind the pictures.  We advise that if you don't by a seated ticket, you should bring something to protect your derrière...those historic cobbles can get a bit uncomfortable! Check out a video of last year's event for a flavour of what you're in for.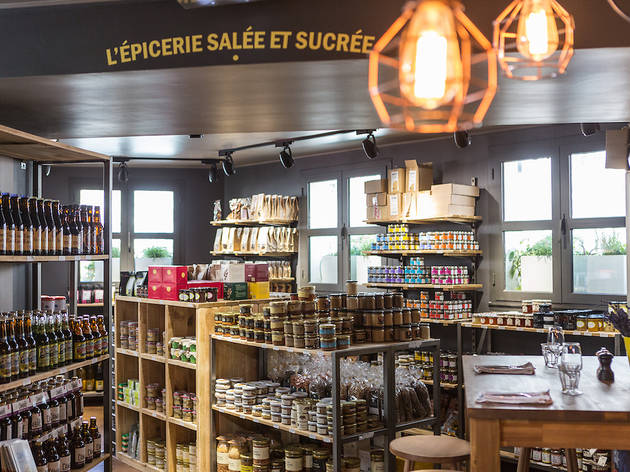 Terra Gourma
Walking into Terra Gourma, an épicerie-restaurant-apèro purveyor in the 9th arrondissement, you feel as if you've already been there. And maybe you have been to their shop in Levallois-Perret on the edge of Paris, but if not there's a jolly welcome that's a bit rare in Paris.  Delicatessan fans will be in heaven with over 200m2 of beautiful jars, bottles and tins to peruse. Personally seeking out the finest providers from across France, and beyond. To boot, these artisans have chosen to work with Terra Gourma exclusively; meaning there are some products here that you won't even find in France, let alone Paris. Organic loose leaf teas for cellulite, to flat tummies and a calm night's sleep; to bottles of green beer made from a plant that's found in the Alps; and a spectrum of coloured jars filled with sea bass & truffle pâté and cod rillettes. Plus the unique designs and presentation means it's a feast for the eyes too.  Once you've filled your shopping baskets with delicious produce, you can fill you stomach in the intimate upstairs restaurant. Co-founder Guillaume, with perriwinkle blue eyes and cheeks as rosy as if he's been out in the fields, smiles while pouring us a ruby coloured wine. Ideal for staving off the chill that the June (?) showers have just drenched us with. There's not a huge menu, not that you won't have trouble choosing. They try and use as many products from the shop as possible - so the ham 'chips' in the paprika poached egg, rocket, tomato and pot
David Hockney
The long awaited arrival of David Hockney's retrospective comes to the Pompidou centre - nearly 20 years after his Paris debut!
Buy tickets
Latest reviews and previews