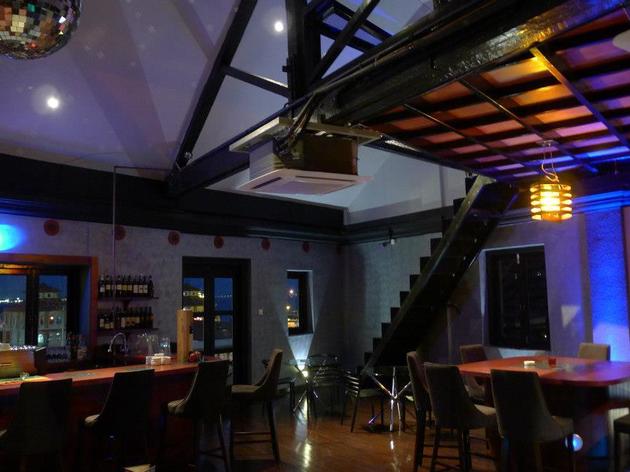 December 2012

The clever people of Via Pre Italian restaurant have renovated the second floor of the building in which they are in on Pengkalan Weld and turned it into a lounge, bar and casual dining area. As of Halloween Day on October 31, this renovated area called Jammin' has since serve gourmet Italian beers in 750ml bottles that from boutique breweries and that are naturally carbonated. They even have one made by the famously innovative and exclusive Spanish or Catalan food institution, El Bulli. A bottle of this wondrous beer that catapults beer into a whole different category and one should sip it from elegant glasses rather than the usual bicep muscle-building thick mugs.

Besides sophisticated beers, Jammin' specialises in an array of both red and white Italian wines that range from light to full body at reasonable prices. Naturally, their drinks menu extends to cocktails, coffees and other non alcoholic beverages as well. On the food side, their menu is pork-free and ranges from Italian main meals to antipasti such as melanzane of baked aubergine slices layered with parmesan and tomatoes. If they aren't too busy, you're welcome to order from Via Pre's menu of pizza, pasta and salad too.

Food and drink are only part of the charm of Jammin'. Its ambience seem to stray away from the earthy feel of Via Pre restaurant downstairs. Jammin' has a stylish twist to its comfortable couches, large bar tables and stools. Blue-grey upholstery of the couches and reddish wood of the table tops complement the soft glow of the lighting in the place. A high ceiling adds to the spacious feel and helps avoid multitudes of conversations from bouncing and overlapping on top of each other. An important factor when there is live music playing on their stage. On nights when there aren't any, cool, groovy tunes fill the air here.

Design aside, a very considerate feature – especially for those in heels – is the elevator for the short trip up or down. You'll discover, after just minutes of being here, that's not the only considerate thing here. The service staff are helpful with recommendations, attentive when topping your wine glass and quick of wit as well. Jammin' seems to have, from the look of things, all the ingredients to make a night out memorable, indeed! Su Aziz
As featured in Time Out Penang's 50 things to do in Penang.
Venue name:
Jammin'
Contact:
Address:
Second floor
Via Pre
5 Pengkalan Weld
Penang
10300

Opening hours:
Wed-Sun, 5pm till late