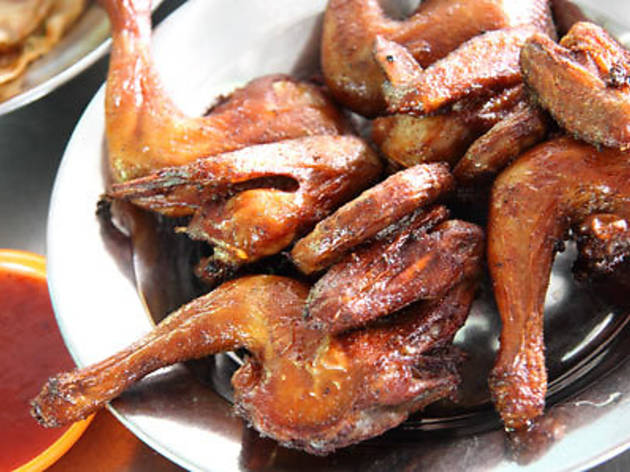 June 2013

If you were to mention fresh toddy, the venue that'll be mentioned from a local's lips will be this place. No tourist will be able to locate this place that's tucked within in Bagan Lallang which is within Mak Mandin area of Butterworth.
The curious thing about this little shack-turn-restaurant is, it's only open till 5:30pm. It's curious because Chinese seafood places are normally open till dinner. The opening hours, we suspect, is to adhere to the toddy schedule. It's in the evenings that this coconut based beverage is prepared from the tree itself with the help of ragi or yeast. The liquid will then ferment overnight, drips into pods and they will then harvest in the morning just before the restaurant opens.
This tree direct to table results in toddy that's sweet with a barley flavour finish. It possesses almost no scent and is smooth. The colour of the cloudy colour of the toddy is similar to that of barley water. Just how much is the alcohol content in a bottle of this beverage is not clear but be wary of over consumption if you're driving the 40-something kilometres back to the island! A one liter (or a little more) bottle here is RM6 and it's good to drink cold in its original form or with a splash of stout for a slightly edgier taste.
Food wise, they only have a fixed menu of around six to seven dishes which makes their service super fast. In fact, they guarantee food will appear on your table within 10 minutes if not less. Their daily repertoire includes fried mee hoon, steamed lala (local mussels), whole or half fresh fish (of the red snapper family) steamed in clear garlic and ginger soup, deep fried crispy spring chicken and fried prawn fritters that uses popiah skin – the last two being their signature dishes.
Price wise, it's pretty reasonable here at RM42 for a whole fish, RM12 for a large portion of the prawn fritters, RM6 for half a spring chicken (enough for one or two people) and overall, you'll end paying between RM25 and RM30 per head for a rather huge lunch including a bottle of toddy. We'd suggest you go with a large group for a late lunch, just before they shut for the day. Kitty Kaye
As featured in Time Out Penang's 50 things to do in Penang.
Venue name:
Ong Cheng Huat Seafood
Contact:
Address:
2004 Bagan Lallang
Penang
14000

Opening hours:
Tue-Sun, 11am-5.30pm; closed on Mon