360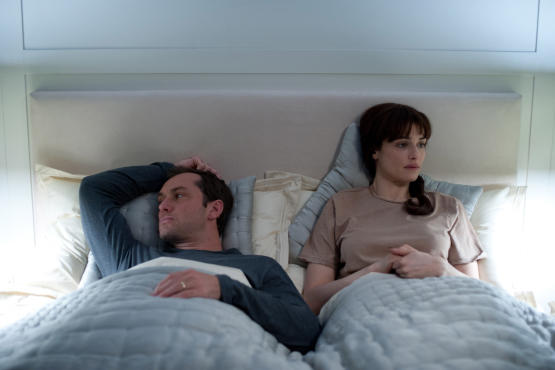 Jude Law and Rachel Weisz in 360
Time Out rating:
<strong>Rating: </strong>2/5
Not yet rated
Time Out says
Mon Jul 30 2012
Round and round and round we go; when the "we're all connected" movies will stop, nobody knows. Fernando Meirelles's 360 is neither the best nor the worst of a genre that claims Max Ophüls's La Ronde as its zenith and Paul Haggis's Crash as its barrel-scraper. Meirelles's continent-hopping tale of disaffected souls in various states of emotional duress and physical undress is grim yet watchable from its first scene, in which a neophyte Bratislavan prostitute (Lucia Siposova) strips in a long, cold-blooded shot while a fortune-cookie voiceover muses about "forks in the road." It takes a little time for the celebrities to show up, but then the head-slapping coinkidinks begin: It turns out the call girl is scheduled to meet with a married English businessman (Jude Law) whose wife (Rachel Weisz) is having an affair in London with a hottie photographer (Juliano Cazarré). The photog's angry girlfriend (Maria Flor) leaves him and meets a grieving father (Anthony Hopkins) on a flight to Denver, where they're waylaid by a snowstorm and a convicted sex offender (Ben Foster), and…
Meirelles and screenwriter Peter Morgan—who cites Arthur Schnitzler's 1897 play Reigen (also the basis for La Ronde) as his primary inspiration—treat every twist and turn with a sick-soul-of-mankind solemnity that seems conspicuously awards-trolling (and probably a few years out of date). Scene by scene, you want to laugh at all the ham-fisted kismet, even if the committed cast holds your attention. Hopkins is especially good in his chaste May-September interactions with Flor, and he has an AA confessional that is genuinely moving. But any lingering goodwill is sapped in the final minutes when a character earnestly opines, "We have come full circle." Talk about a cycle that needs breaking.
Follow Keith Uhlich on Twitter: @keithuhlich
Author: Keith Uhlich
Write your own review