A Man Vanishes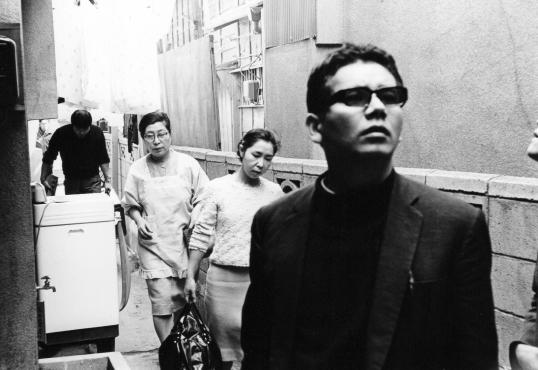 One of the "actors" in Shohei Immamura's documentary A Man Vanishes
Time Out rating:
<strong>Rating: </strong><span class='lf-avgRating'>5</span>/5
Time Out says
Tue Nov 13 2012
The line between nonfiction filmmaking and good ol' fashioned creative flimflammery had already been dinged and dented by the time Shohei Imamura unleashed his 1967 assault on the veracity of vérité. But this humdinger from the Japanese New Wave director takes on the manipulative nature of "objective" documentaries like few other films, and remains a primo example that cinema actually traffics in truthiness 24 frames per second. Mind you, a real missing-person case does rest at the center of the movie: Tadashi Oshima, a thirtyish plastics salesman, had disappeared a year and a half earlier, leaving behind a bewildered fiancée. Psychics are consulted and testimonies are gathered; conflicting character assessments are trotted out, as are tales of embezzlement and his bride-to-be's sister working as a geisha. Then Oshima's jilted lover falls in love with the onscreen interviewer (played by an actor) leading the investigation. Imamura encourages the romance. What happened to Oshima becomes an even more elusive question.
A caustic satirist, Imamura has casually fucked with meta-aspects of cinema before: His take-no-prisoners comedy The Pornographers (1966) ends with the film faux-fracturing its own frame. But though the manner in which he rides the era's questioning, pranky zeitgeist in the name of exploring identity—both Oshima's and the movie's—had little precedent in his back catalog, the result immediately feels completely of a piece with his piercing looks at humanity in extremis. One scene nearly outdoes his entire oeuvre in terms of acid-tinged commentary: As the two sisters dive into a genuine fight over a legacy of resentment, the director claps his hands—and the "teahouse" they're sitting in dissolves around them. Like its subject, A Man Vanishes' illusion that it isn't anything but a film vanishes once and all—along with the notion that, per Imamura, absolute truth isn't anything but an impossibility.
Follow David Fear on Twitter: @davidlfear
Author: David Fear
Users say
<strong>Rating: </strong><span class='lf-avgRating'>0</span>/5