Despicable Me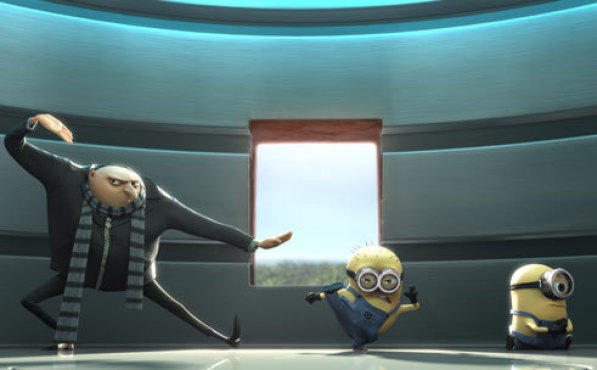 Time Out rating:
<strong>Rating: </strong><span class='lf-avgRating'>3</span>/5
Time Out says
Mon Jul 5 2010
Click #7 for a 3-D image (3-D glasses required).
What if supervillains lived among us? That's the question posed by this fitfully amusing animated feature, which follows a hulking, Lugosi-accented baddie named Gru (Carell) as he tries to steal the moon. (Yes, the actual moon.) Gru's the kind of guy who'll make a balloon animal to soothe a crying child---and then pop it. But his malicious genius is barely in demand, thanks to hot young turk Vector (Segel), who's stolen the Great Pyramid of Giza and hidden it in his backyard. Vector also has a shrink ray that Gru needs to pinch so he can get a scheme-funding loan from the Bank of Evil ("formerly Lehman Brothers"---the film's best joke). What better way to make his nemesis lower his guard than with a doe-eyed trio of cookie-selling orphans?
The setup is pure Looney Tunes, and indeed, Despicable Me is at its best when trading in the anything-for-a-laugh prankery that was a specialty of the Termite Terrace crowd. Gru's yellow, gibberish-spouting minions are the most reliable chuckle-generators: One of them is the subject of a glow-stick gag that should make even the grumpiest audience member LOL. And there are some terrific throwaway rib-ticklers, such as Vector's hilariously useless "piranha gun" and the Bank of Evil's crush-the-little-man decor. But sentiment soon overwhelms the subversiveness, as Gru learns that being a responsible family guy is preferable to world domination. The more the character loses his antisocial edge, the more he becomes a Disneyfied dullard. Still, let's see Aladdin get down to the Bee Gees.---Keith Uhlich
Watch the trailer
Users say
<strong>Rating: </strong><span class='lf-avgRating'>0</span>/5