Eyes Wide Open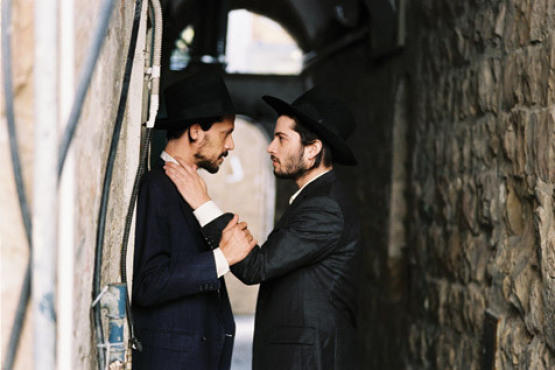 RITES OF PASSAGE Shtrauss and Danker connect.
Time Out rating:
<strong>Rating: </strong><span class='lf-avgRating'>3</span>/5
Time Out says
Mon Feb 1 2010
Call it Brokeback Talmud—not just for its taboo-busting depiction of a gay affair between Orthodox Israelis, but because it adopts Ang Lee's slow-burn seriousness almost to a fault. To his credit, first-time director Tabakman displays more explicit sensuality than Lee's cowboys, with perhaps the sexiest scenes ever filmed with Hasidic Jews. But that's strictly between repressed butcher Aaron (Shtrauss, resembling a yarmulked Jake Gyllenhaal) and his wanton apprentice, Ezri (Danker); when Aaron gets home to Rivka (Tinkerbell), the mother of his three kids, their bedroom action has all the excitement of navel lint-picking.
The film strains under a similar perfunctoriness, leaning on a cheerless, Euro-fest mode of long takes and a moody electronic score. But the low-key observational approach does yield payoffs, like when Aaron gets to know Ezri's nature through his vaguely erotic sketches of men from yeshiva school. There's a terrific sequence in which Aaron's peers enlist him to rough up a non-Orthodox man dating an Orthodox girl, as an indirect warning that they're on to his secret. Eyes Wide Open finally delivers a knockout visual: the lovers meeting seemingly alone, only for a passing car's window to reveal a dozen men monitoring them. The drama's moments of inspiration vindicate its desultory proceedings.—Kevin B. Lee
Opens Fri; Cinema Village. Find showtimes
Watch the trailer
Users say
<strong>Rating: </strong><span class='lf-avgRating'>0</span>/5