Hitchcock (PG-13)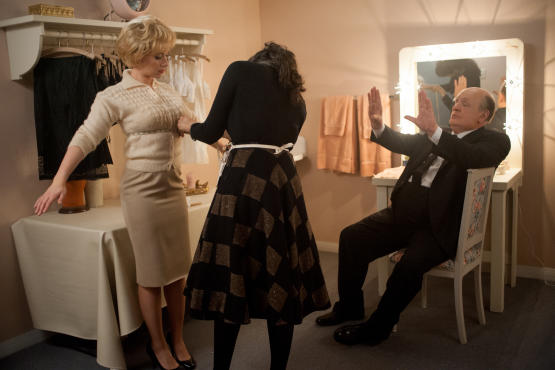 Scarlett Johansson, left, and Anthony Hopkins in Hitchcock
Time Out rating:
<strong>Rating: </strong><span class='lf-avgRating'>2</span>/5
Time Out says
Mon Nov 19 2012
You don't need to be a professional headshrinker to see that Al Hitchcock had lady issues. Over the course of a highly influential career, the iconic filmmaker put a memorable bevy of blonds and brunets through their paces: Teresa Wright versus Joseph Cotten, Kim Novak versus Jimmy Stewart, Tippi Hedren versus the Avian Menace. Yet the director's work was, and remains, so fascinatingly knotty that his many kinky obsessions (placing women in harm's way was simply one predilection of many) can never be pinned down with any kind of pop-psych certainty.
That doesn't stop the makers of this flimsy, jokey biopic—in which Hitch (a corpulently latexed Anthony Hopkins) prepares to direct the seminal horror film Psycho (1960)—from trying to ludicrously explain away their subject's numerous neuroses. It all comes back to a dame, of course: not ill-fated leading lady Janet Leigh (Scarlett Johansson), but the director's long-suffering wife, Alma (Helen Mirren, Oscar-baiting every gesture), who watches with retroactively feminist chagrin as her husband risks everything on a project few want to touch. Too-cutesy conceits such as Hitch's imagined conversations with serial killer Ed Gein (Michael Wincott) feebly attempt to ground the story in psychological terra firma, while horribly on-the-nose dialogue flatters those viewers who prefer to keep their sense of cinema history on fan-mag frivolous levels. ("I've waited 30 years for you to say that to me," swoons Alma to a rare Hitch compliment. "That's why they call me 'The Master of Suspense,' " he quips.) Pardon us, Mother Bates, may we borrow your knife?
Follow Keith Uhlich on Twitter: @keithuhlich
Author: Keith Uhlich
Users say
<strong>Rating: </strong><span class='lf-avgRating'>0</span>/5