In Another Country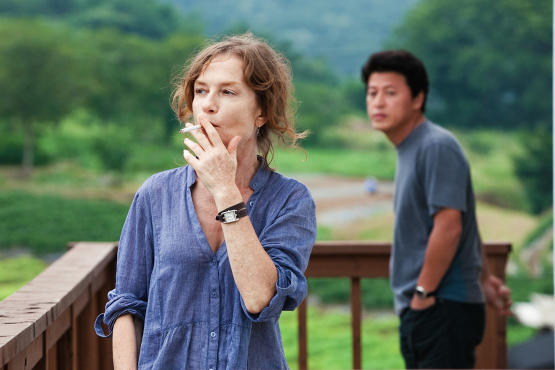 Isabelle Huppert and Yu Jun-sang in In Another Country
Time Out rating:
<strong>Rating: </strong>3/5
Not yet rated
Time Out says
Tue Nov 6 2012
Fierce and never boring, Isabelle Huppert has made a career out of being bold—her art involves a fair amount of daredevilry. (Some love her kinky mud sex scene in I Heart Huckabees; others, her glass-crushing sabotage in The Piano Teacher.) The idea of her playing not one or two, but three French women abroad in South Korea thrills the mind with potential perversity. All of these women are named Anne, all of them come to the seaside town of Mohang for a layover, and all of them encounter awkward locals—a flirty lifeguard, most humorously—who bend in unusual ways to her exoticness. Only Anne's wardrobe changes; subtly, she's the evolving creation of a film student (Jung Yu-mi) working out some demons.
The movie itself feels like it's on repeat, and you brace yourself for the adventurousness that even a newbie to the sexualized cinema of Hong Sang-soo can reasonably anticipate. Alas, for all Hong's quiet poise (and a small step toward accessibility—his latest is mostly in murdered English), he seems off his game. No exchanges flare into true weirdness; rather, the mood is lingering and tentative. Undoubtedly, this is the movie's intent, but it's a fairly banal comment on foreign estrangement (or love) that could have used some roughing up. All of these characters are lost without passports to some degree, but with only the mildest form of comic misunderstanding as a lingua franca, we feel rooted in place.
Follow Joshua Rothkopf on Twitter: @joshrothkopf
Author: Joshua Rothkopf
Share your thoughts