Iron Man 2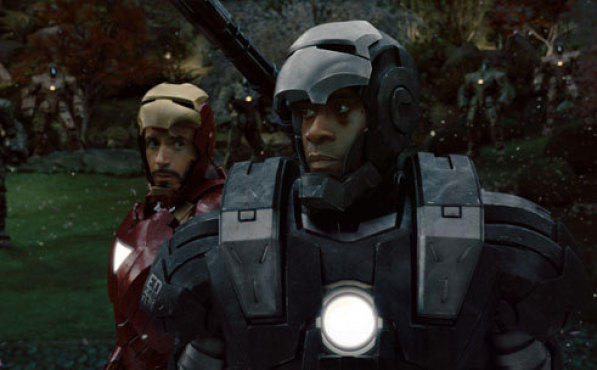 Time Out rating:
<strong>Rating: </strong><span class='lf-avgRating'>2</span>/5
Time Out says
Mon May 3 2010
Has it finally happened? Hard as it is to type, Robert Downey Jr. may have reached obnoxiousness. His first turn as Iron Man's dazzling Tony Stark, a weapons manufacturer with guilt, was the smartest of a series of smart comeback choices. But with this depressingly bland sequel (scripted by snark specialist Justin Theroux), he's stranded in lightweight arrogance: "I am your nuclear deterrent," Stark tells a nosy Congressional committee, and even though he's meant to eat those words, the movie forgets to include Downey's vulnerability.
It doesn't help that his mercury-quick character is pitted against some spectacularly dull antagonists. There's a hulking Russian avenger armed with sizzling whips but few words (Rourke); a competing tech magnate with cash but no brains (Sam Rockwell); and a hot new secretary (Johansson) who never becomes a naughty between-the-sheets competitor to Pepper Potts (Paltrow, reduced to helpless quivering). All of these fresh faces amount to zero personality, so when an eye-patched Samuel L. Jackson shows up in yet more teases for an Avengers movie, you want to scream. Can't we hammer out this one first?
The plunge in quality hurts—but less so for those who adjust their expectations downward to typical second-installment elephantiasis. A fleet of evil drones is simply not as personable as Jeff Bridges. And why bring in the sly Don Cheadle as a sidekick when you're essentially relegating him to what feels like an extra player in a video game? Director Jon Favreau can't be totally to blame; having pulled off the impossible on the first go-round, he's been given too many toys to break.—Joshua Rothkopf
Watch the trailer
Users say
<strong>Rating: </strong><span class='lf-avgRating'>0</span>/5