Oki's Movie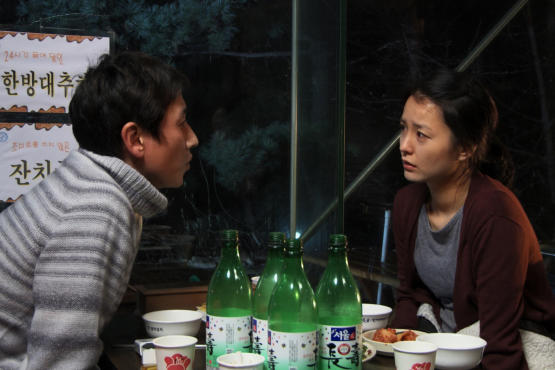 Lee Sun-kyun and Jung Yumi in Oki's Movie
Time Out rating:
<strong>Rating: </strong><span class='lf-avgRating'>4</span>/5
Time Out says
Tue Apr 10 2012
Astoundingly prolific, if not always profound, and the most European of South Korea's cream-of-the-crop cinéastes, Hong Sang-soo has carved out a lovely niche for himself as a chronicler of men behaving badly. His heroes, if you could use such a term to describe his a-hole protagonists, are frustrated males who let their selfish sexual desires, petty professional jealousies and overall immaturity rule their lives and ruin everyone else's. (That so many of these fictional jerks are filmmakers is something for the writer-director's therapist to deal with.) Because he's churned out so many movies with similar scenarios and scumbag characters over the past decade, it'd be easy to mistake this 2010 entry as simply more of the same old Hong and dance: A famous filmmaker (Lee Sun-kyun) belittles students at his university gig. At a drunken dinner—revealing boozing sessions are a staple of Hong's movies—he sucks up to the department head (Moon Sung-keun) and embarrasses himself. Later, during a postscreening Q&A, an audience member brings up an alleged past affair; the director is peeved. It's boorish business as usual.
But this is only the first chapter of four; subsequent sections rewind the timeline so we encounter younger versions of this auteur and his superior. More important, we meet Oki (Jung), the woman associated with the affair—and one's entire perspective about who these three people are changes drastically. Like Hong's masterpiece The Power of Kangwon Province (1998), this skewed look at love triangles and fuckups works the sum-of-its-parts construction to sublime effect; you'll find yourself wanting to immediately go back to the beginning and reassess every conversation, every gesture, every long-held grudge. The commmon complaint that Hong has been remaking, or at least overly fixating on, the same story for a while isn't unfounded, but Oki's Movie reminds you that he can still find unique ways of mining truth out from a ménage à trois. Forget the snark about him ransacking Eric Rohmer's bag of tricks; the gentle ironies and droll, bitter wit here prove Hong is the French New Waver's heir apparent.
Follow David Fear on Twitter: @davidlfear
Author: David Fear
Users say
<strong>Rating: </strong><span class='lf-avgRating'>0</span>/5