Post Mortem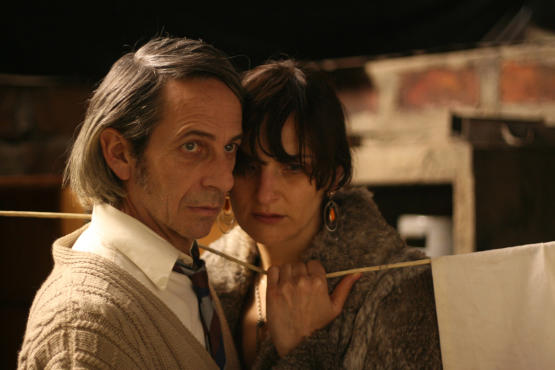 Alfredo Castro and Antonia Zegers in Post Mortem
Time Out rating:
<strong>Rating: </strong><span class='lf-avgRating'>3</span>/5
Time Out says
Tue Apr 10 2012
With his gaunt frame, cadaverous pallor and slow, shuffling walk, Mario (Alfredo Castro) looks like he might have meandered off a Santiago set of The Walking Dead. This Chilean everyman isn't a corpse, however; he just works near them, typing up autopsy reports for coroners. At night, Mario haunts a local theater where, wandering the dilapidated backstage halls, he spots a dancer named Nancy (Antonia Zegers). Mario is immediately smitten. She seems willing enough to reciprocate his affection via dual crying jags over runny eggs and the occasional hop in the sack. Everything might be peachy in their grimy, ash-colored world were it not for the fact that the year is 1973 and the South American country is on the verge of a violent military coup.
With his sophomore feature, Tony Manero (2008), filmmaker Pablo Larraín gave us both a memorably maniacal main character and a black-joke metaphor about the free-floating psychosis wafting through Pinochet's Chile. Neither of which can be said for his follow-up: Castro comes off like a caricature of a social outcast, while the first half's pretentiously doom-laden vibe suggests the film is slowly tunneling up its own rigor-mortised rectum. Patience, however, will be rewarded. After a brilliant transitional touch (the coup is eerily rendered as background noise), Post Mortem starts to come alive, with dozens of former "dissidents" being put under Mario and his coworker's watch. The straightforward, waking-nightmare atmosphere that follows doesn't make up for a litany of art-house sins, but it does lead to one incredible payoff: a single-take last shot that's a figurative final nail in the coffin.
Follow David Fear on Twitter: @davidlfear
Author: David Fear
Users say
<strong>Rating: </strong><span class='lf-avgRating'>0</span>/5