Safety Not Guaranteed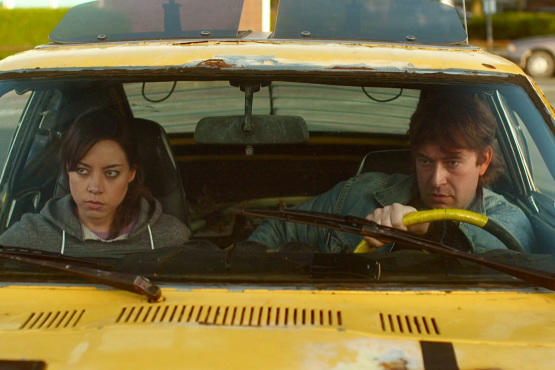 Aubrey Plaza and Mark Duplass in Safety Not Guaranteed
Time Out rating:
<strong>Rating: </strong>3/5
Not yet rated
Time Out says
Tue Jun 5 2012
You can already tell that it's going to take an observant director to pull out the best in sarcastic Aubrey Plaza (of TV's Parks and Recreation), a rising star who might get Kristen Wiiged for a while in unworthy films. Too easily, she fits this indie effort's mold of a Seattle alt-journo intern, emitting a steady seethe over her banal tasks. But when Plaza widens her enormous eyes at a potential career break—a stranger takes out a classified ad looking for a fellow time traveler—there's both her character's mocking sense of faux conspiracy ("There's no sense in nonsense, especially when the heat's hot," she tells the kook somberly) and, impossible to miss, a young woman falling in love with a kindred spirit.
The target of her affections, loner Kenneth, is played by director-actor Mark Duplass, blooming into a rangy alternative to Hollywood's sweaty manchildren. Here, he looks like Aaron Eckhart gone to seed while building a secret device in his garage. Safety Not Guaranteed doesn't quite know what kind of comedy it wants to be; the humor works best in its first hour, when the news-of-the-weird plot takes on a suggestive dimension of romantic desperation. (Plaza's boss, the paper's glib writer on the story, goes AWOL on a quest of his own, one that's mysteriously abandoned.) Alas, a sophisticated trajectory is cut short for an outcome that's cringingly earnest. Who'd want to go back in time when a whole future is right there in his arms?
Follow Joshua Rothkopf on Twitter: @joshrothkopf
Author: Joshua Rothkopf
Write your own review