The Harder They Come (R)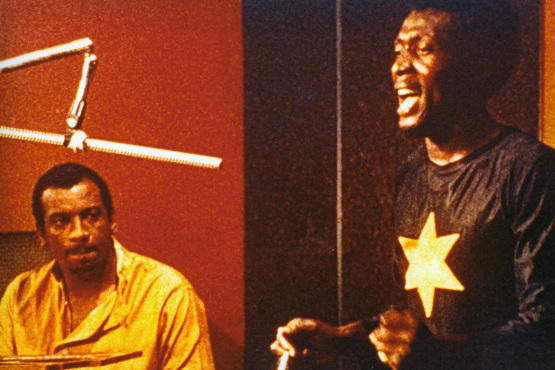 Jimmy Cliff, right, in The Harder They Come
Time Out rating:
<strong>Rating: </strong><span class='lf-avgRating'>2</span>/5
Time Out says
Tue Jun 5 2012
"I was here but I disappeared," reads the graffiti scrawled on signs by Jamaican musician Ivanhoe "Ivan" Martin (Jimmy Cliff), a country boy turned outlaw haunting Kingston's mean streets. Robbed on his first day in town, the down-and-out dreamer is forced to work for a tyrannical preacher (Basil Keane) before getting exploited by a sleazy record producer (Bob Charlton) and literally having the piss whipped out of him. Ivan's only choice is to procure some pistols, earn fast money in the ganja trade and fight the powers that be.
Looked at from an anthropological point of view—or simply as a historical spirit-of-'72 artifact—The Harder They Come is undeniably important, a revolutionary rude-boy cautionary tale that introduced reggae to a global audience. But make no mistake: As a movie, it's Mystery Science Theater 3000 bad: atrocious acting, amateurish camerawork and a hackneyed story line all make for one painful slog. Its salvation lies in its soundtrack, featuring choice cuts from the genre's greats (Desmond Dekker, The Maytals) and headlined by Cliff's indelible ballads of hope, vengeance and despair ("Many Rivers to Cross," the classic title song). His performances introduced a musical style to the world, and they still have the power to mesmerize. As for fans of the film: What are they, stoned? Oh, wait. Riiight.
Author: Stephen Garrett
Users say
<strong>Rating: </strong><span class='lf-avgRating'>0</span>/5