The Master (R)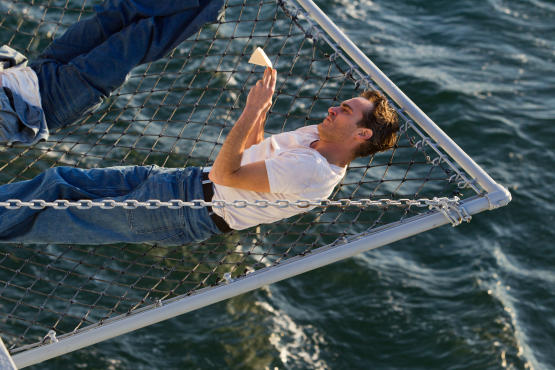 Joaquin Phoenix in The Master
Time Out rating:
<strong>Rating: </strong>3/5
User ratings:
<strong>Rating: </strong>4/5
Rate this
Time Out says
Tue Sep 11 2012
Ponderous and demanding, Paul Thomas Anderson's latest slows to a rattlesnake-swallowing-a-mouse lurch, a pace that makes There Will Be Blood feel like Boogie Nights. The mouse is Freddie Quell (Joaquin Phoenix, rid of the beard but definitely not the wildness), an aberrant WWII sailor transitioning to a life of department-store fistfights and drunkenness. He's a pinched mumbler, cryptic in manner but, you suspect, a vessel waiting to be filled. The rattlesnake is Lancaster Dodd (a richly Wellesian Philip Seymour Hoffman), a sci-fi writer and guru who commands on sea and land. (Anderson's done remarkably little to hide the identity of the founder of Scientology, L. Ron Hubbard.) In the movie's expertly rendered 1950, shellacked yet unglamorous, Dodd hides a vicious streak; you wait for it to flare up. One challenger gets dressed down as "pig fuck" and even the lovable Laura Dern, as a starry-eyed disciple (a cousin to her needy character on Enlightened), withers at his short temper.
Freddie sneaks onto Dodd's party boat, shimmering like an island of comfort, and is immediately flattered by its captain with a conspiratorial embrace. Similarly, The Master teases us with its game of spot-the-craziness, as scenes of intense questioning (similar to "auditing") and Dodd's notions about imprinted souls coalesce into a film-long wink. But is that enough? It's hard to see what Anderson is illuminating—in luxurious-looking 70mm, no less—about a cult that feels more like a mild family gathering with occasional episodes of group nudity. The movie is surprisingly bereft of ramifications, a dramatic shortcoming that's unusual for Anderson. Up to now, the director has built an ace catalog unified in its take on the uniquely American (even Californian) penchant for shapeshifting. You expect his tale of Scientology to fit right in, but the script never gets around to Hubbard's Hollywood and notorious days of black magick. It's a missed opportunity.
And still, even in this short amount of time, the film has grown in my mind. The spell could be attributable to an arrestingly dissonant orchestral score, full of plucked strings and bruised swells, by Radiohead's Jonny Greenwood. Maybe it's the Oscar-scaled performances, especially from Phoenix, who smashes a prison-cell toilet with the fury of an actor who knows he's playing to an audience. Everything about The Master is more suggestive than I fear it deserves to be. (A riveting 2011 New Yorker tell-all by director Paul Haggis, an ex-Scientologist, would have made for a better film.)
Better to divorce the movie entirely from its hot-topic context and view it as another of Anderson's father-son stories. There's the old man doting on his "scoundrel," wanting to become an animal himself. The younger acolyte, in turn, stiffens with new responsibility but gives up a fair degree of his freedom. (That's basically the same setup as Boogie Nights, but there's no payoff this time; it seems like the two simply drift apart.) The leading men excel in their quieter scenes, yet there's also a dangerous amount of padding here: churning shots of a boat's wake, benevolent gazes that might be hiding evil intent, little in the way of plot advancement.
I'd trade much of The Master for one extraordinary moment played by the ever-improving Amy Adams, in front of the bathroom mirror with Hoffman. Her hand reaches down below the frame, she vigorously makes demands in his ear and her husband keels over, sexually spent. It's a beautiful metaphor for the power dynamic between follower and followed—I'd rather it not apply to viewer and writer-director.
Follow Joshua Rothkopf on Twitter: @joshrothkopf
Author: Joshua Rothkopf
Write your own review