The Oranges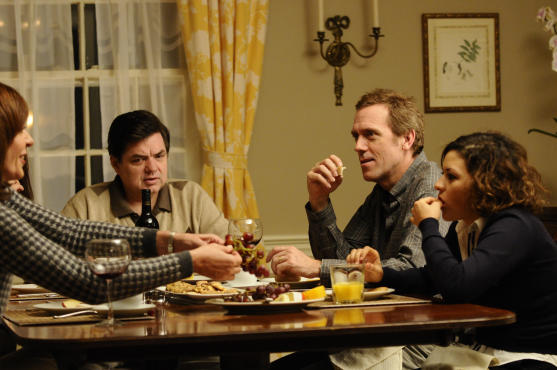 From left to right: Alison Janney, Oliver Platt, Hugh Laurie and Alia Shawkat in The Oranges
Time Out rating:
<strong>Rating: </strong><span class='lf-avgRating'>1</span>/5
Time Out says
Posted: Tue Oct 2 2012
Oh, suburbia: how we love condescending to thee. This latest spin around the manicured block takes place in the bedroom community of West Orange, New Jersey, where the Wallings and the Ostroffs have always been more like an extended family than neighbors. But their intimacy is tested when self-exiled daughter Nina Ostroff (Leighton Meester) retreats home after a bad breakup, setting her sights on père David Walling (Hugh Laurie), who, thanks to a sexless union with wife Paige (Catherine Keener), proves hot to trot. While the Ostroffs (Allison Janney and Oliver Platt) pirouette in horror, the Wallings fall apart, with David trying to normalize his May-December affair and his placid spouse attempting vehicular homicide on Christmas Eve.
Veteran TV director Julian Farino (Entourage) and screenwriters Ian Helfer and Jay Reiss are credited with this risible farce, but such a punitive pose basically writes itself: A nicely mowed lawn in the first act will be mulched by the third; courteous marriages will be proved loveless; and any woman over the age of 50 will be justly punished for her screeching, meddlesome control-freakishness. Neither Janney nor Keener can rise above the rote hatefulness of their madwoman caricatures, whereas Laurie and Meester fare better at playing liberated dreamers who go against the dreaded grain. But shooting fish in a barrel tends to unintentionally conjure sympathy for the fish—or, in this case, for perfectly unhappy suburbanites.
Follow Eric Hynes on Twitter: @eshynes
Author: Eric Hynes
Users say
<strong>Rating: </strong><span class='lf-avgRating'>0</span>/5