The Tin Drum (R)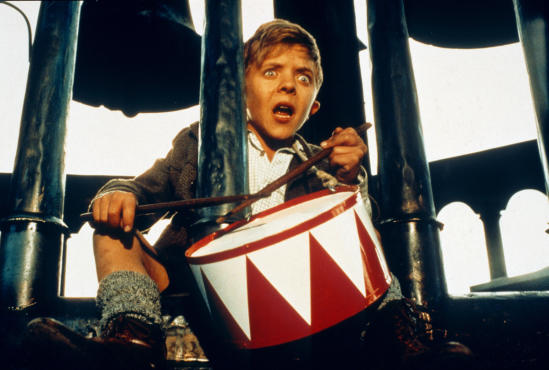 David Bennent in The Tin Drum
Time Out rating:
<strong>Rating: </strong><span class='lf-avgRating'>3</span>/5
Time Out says
Mon Sep 17 2012
Both innocent victim and monstrous imp, the stunted manchild Oskar Matzerath of Gunter Grass's 1959 novel is one of the most disturbing protagonists in literature. In Volker Schlondörff's Oscar-winning movie adaptation, three-year-old Oskar (David Bennent) decides he never wants to become an adult; considering he's growing up in the Prussian city of Danzig during the rise of National Socialism, you can't really blame him. The boy simply ceases to grow, a perpetual child banging his beloved tin drum as Europe collapses around him. Out of this self-willed malady, Oskar also develops an ability to shatter glass with a high-pitched scream, eerily anticipating Kristallnacht—the "Night of Broken Glass" in 1938, when Jewish establishments were attacked all over Nazi Germany.
Whether this talent symbolizes racist aggression or mournful shock is left unsettlingly unclear, however, and while Oskar is a sphinxlike contradiction, Schlöndorff has a tendency to sketch the rest of the cast as simple grotesques or symbols of decadence that are unconvincingly humanized in the final third. This director's-cut version includes 20 minutes of new footage, which fleshes out Oskar's father and includes a surreal fantasy of an orgy led by Rasputin (played by coscreenwriter and frequent Buñuel collaborator Jean-Claude Carrière). But this is still Oskar's film. He is a mute witness, active rebel and willing participant in the horrors of the period—as morally changeable as the age that birthed him.
Follow R. Emmet Swenney on Twitter: @r_emmet
Author: R. Emmet Sweeney
Users say
<strong>Rating: </strong><span class='lf-avgRating'>0</span>/5