Wake in Fright (R)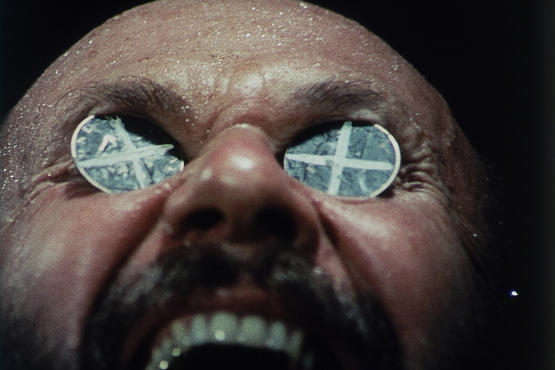 Donald Pleasence in Wake in Fright
Time Out rating:
<strong>Rating: </strong><span class='lf-avgRating'>4</span>/5
Time Out says
Tue Oct 2 2012
"What do you do?" asks reluctant visitor John Grant (Gary Bond) of the man sitting across from him at a speakeasy. "I drink," replies the local, played by Donald Pleasence with a menace that puts his Blofeld to shame. To be fair, everyone imbibes heavily and unhealthily in Ted Kotcheff's 1971 study in Aussie outback dread—especially the men. A city-slicker teacher assigned to a rural schoolhouse, Grant is heading back to Sydney and just happens to stop in a small-town way station for the night; he's soon persuaded—or rather, pressured—to down a beer or six at the burg's pub. Our hero will eventually lose his traveling cash in a game of chance, keep drinking, black out, drink even more, kill kangaroos (graphically) and continue on a bender fueled by brews and blood. By the end of a long lost weekend, this civilized educator will have unearthed his inner savage.
Pitched between the wasteland psychodramas of Australia's then-sprouting New Wave and the grotty underbelly-tickling of later Ozploitation gems, Kotcheff's beware-the-backwoods thriller takes an unholy pleasure in watching Bond, an actor who always looks as if he's just bitten into a maggot-filled peach, devolve from full frontal dude-ity into a beast. Push any guy long enough with alcohol and aggressive masculinity, the film suggests, and you'll find an XY-chromosomed predator lurking behind the mask—a theme that this movie's fraternal twin, John Boorman's Deliverance, would delve into even further the following year. This sodden season in hell got there first, though, and its twisted look at men behaving very badly would garner fans ranging from Pauline Kael to Nick Cave, who called it the "most terrifying film about Australia in existence." (This from the guy who wrote "Henry's Dream"!) By the end of its Film Forum revival, the legion of admirers will have undoubtedly grown a hundrefold.
Follow David Fear on Twitter: @davidlfear
Author: David Fear
Users say
<strong>Rating: </strong><span class='lf-avgRating'>0</span>/5