X-Men: First Class (PG-13)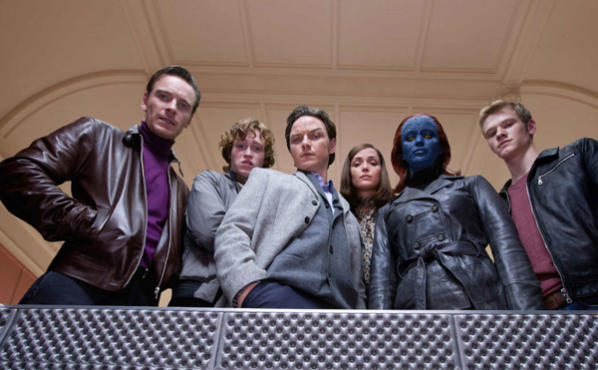 Time Out rating:
<strong>Rating: </strong><span class='lf-avgRating'>2</span>/5
Time Out says
Thu Jun 2 2011
New decade; same ol' same ol'. The latest adaptation of Marvel's mutant flagship opens like the first X-Men (2000): in a Poland concentration camp, where young Erik Lehnsherr, soon to be Magneto, uses his metal-bending powers in a failed attempt to save Mommy. But then it goes on, introducing a hilariously nonthreatening Kevin Bacon as Hans Landa---sorry, cheerfully smarmy SS man Sebastian Shaw, the multilingual mustache-twirler who will become Mag's archenemy. Our vengeful, alloy-busting protagonist eventually grows up, circa 1962, into strapping Michael Fassbender, who fate decrees will meet and befriend one Charles Xavier (McAvoy)---a groovy (his word, not ours) professor of mutantology (our word, not his).
Plot, you ask? Teenage mutants! Cuban Missile Crisis! Michael friggin' Ironside? (See you at the party, Richter!) Like its predecessors, this prequel origin story is so freighted with "spectacular" sights---some cool retro production design doesn't excuse the mostly shoddy digital effects work---that substance is squashed. Cheeky parallels to civil-rights struggles past and present ("They didn't ask and I didn't tell," says Nicholas Hoult's Beast, when explaining why he kept his mutant status under wraps) never rise above their cartoon-bubble superficiality. And all the moments that should be root-for-the-underdog-rousing ("You're more than G-Men. You're...X-Men!") instead induce eye rolls. It's just another franchise nonstarter to toss in the superstore superhero deal bin.
Watch the trailer
Author: Keith Uhlich
Users say
<strong>Rating: </strong><span class='lf-avgRating'>0</span>/5