Fitness advice from four Chicago dance stars
Get that lean look you've always wanted.
By Matthew de la Peña Thu Dec 27 2012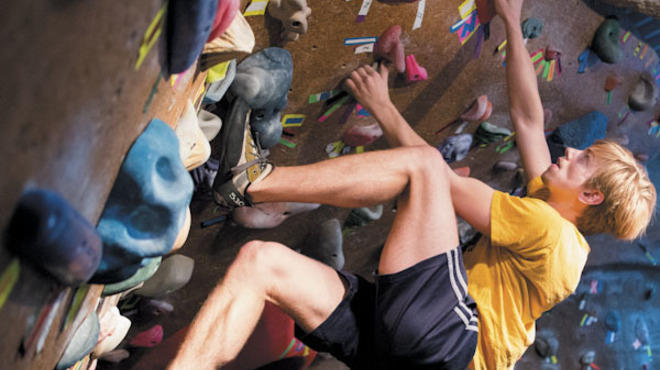 Photograph: Sara Mays
Michelangelo's David. Da Vinci's Vitruvian Man. Botticelli's Venus. Snooki's Gorilla Juiceheads. So what's the body type you're after? You'd do well to follow these statuesque Chicago dance stars, who offer their exercise tips and regimens for our Fitness Issue.
David Schultz, 25, and Jason Hortin, 30
Company Hubbard Street Dance Chicago
Form for thought "It's better to do proper reps rather than lots of reps," Schultz says. "Thousands of crunches won't help if you're not engaging the right muscles."
Wall-ternative "Rock climbing is a great option for us. We're essentially lifting our own weight, nothing extra. We stay toned, but not bulky. Dance requires a certain aesthetic."
The do-diet "We eat everything. Not junk, but we don't limit our diet. Since we're dancing and active five days a week, 10am to 6pm, we burn a lot of calories."
Push the limit "We have the Perfect Pushup, those twistable pods from the infomercials. We'll do lots of push-up combinations backstage before a show. When we were working with Twyla [Tharp], she did a few with us. She got into it."
Best non-gym-related workout "I recently bought furniture from IKEA," Hortin says. "Putting it together? Now that is a tough role."
Ashley Rockwood, 27
Company Giordano Dance Chicago
All the rage "My newest thing is Pilates. It's been a huge game changer. My problem always seems to be my core. To have something [like Pilates] that knocks it out of the ballpark…it's like, huh, it's been a while since I've felt this good!"
Fresh advice "Try new classes and new teachers. Your muscles have memory. If you do the same thing day in and day out, you'll start to get comfortable."
Lose the weight(s) "You're not going to see me in the gym pumping iron. People forget about push-ups, tricep lifts, things that you can do at home, basic body resistance."
Eat right, stay tight "I'm a big believer of what you put in is what you get out. I don't believe in sentencing myself to a life of not enjoying good food, but it's all about portions."
Keep it simple (backstage) "We take company class, and usually prance around to get warm. Nothing crazy. No shake weights back here!"
Dylan Gutierrez, 22
Company Joffrey Ballet
Light weight "I'll bench press about 100 pounds. I do three sets: first set 15, second set 17, third set 20. I do things that relate to lifting people. I try to find the best simulation of that."
Pro advice "For a dancer build, and this might sound anticlimactic, but take a ballet class. [Laughs] As far as weights, that's not going to do it for you. What would be closest is yoga, Pilates or a ballet class. Ballet is about coordination."
Oil-free "I try not to eat too much grease. I like to make sure I get steak and potatoes occasionally, to get some protein."
H2-do's "When that 2:30 feeling comes along, I make sure I get one or two vitaminwaters. I don't like to rely on things like that, but when I start feeling tired or sluggish, that usually brings my energy back without making me feel jittery."
Jam sesh "I'll listen to something that gets me feeling, like, 'I'm the man.' Lately I've been listening to the new Wiz Khalifa album. Yeah, Wiz Khalifa, man. Good stuff."
You might also like
---