Six great Evanston joints
By Time Out editors Wed Nov 18 2009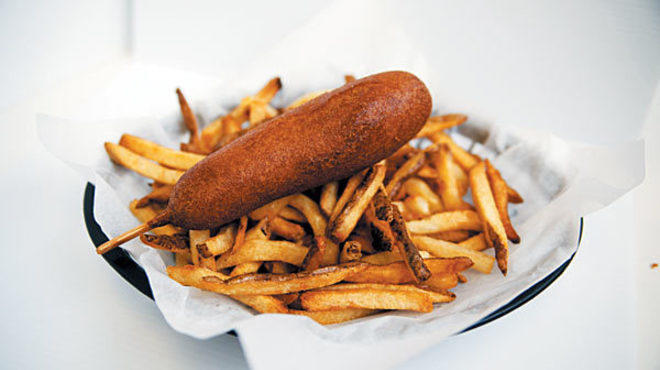 Dipping Dog with fries at Wiener and Still Champion Photograph: Kate Gross
Addis Abeba The NU crowd here uses spongy injera bread as knife, fork and spoon to sop up traditional entrées. Combo plates offer the best bang for your buck, giving you a chance to try as many as four entrées, such as yeater kit wot (yellow split peas with garlic, cloves and cinnamon), yesiga wot (a spicy beef stew) and azifa (cold lentils with tomatoes and jalapeño). It's best to go with someone you want to cozy up with, since everyone's food is served on a mesob—a single, large platter symbolizing intimacy and loyalty. 1322 Chicago Ave (847-328-5411). El: Purple to Dempster. Bus: 201, 205. Lunch, dinner. Average main course: $13.
Campagnola While his newer restaurant Union may have hogged some of the spotlight this past year, chef Vince DiBattista keeps Campagnola just as relevant. The focus remains sophisticated Italian food made with organic ingredients, including signatures like guanciale-wrapped radicchio with creamy goat cheese and basil aioli and simple and seasonal preparations like porcini-mushroom soup, rack of lamb served with brussels sprouts and pancetta and mahi-mahi with a shallot-rapini pesto. 815 Chicago Ave (847-475-6100). El: Purple to Main. Bus: 205. Dinner (closed Mon). Average main course: $22.
Cross Rhodes To say that you get more than you pay for at this dinerish Greek joint is an obscene understatement. It's not just that the portions are huge (the $8 gyros platter is piled about 10 inches high)—it's that the food is well-spiced and fresh. In other words, it's a refreshing change from most Greek spots. And refreshing for vegetarians, too, with its veggie versions of rich moussaka and pastitsio. Not so refreshing: the $11 bottles of wine, where you absolutely do get what you pay for, if not less. 913 Chicago Ave (847-475-4475). El: Purple to Main. Bus: 201, 205. Lunch (Mon–Sat), dinner. Average main course: $8.
Jamaica Jamaica The blended fruit cocktails at this sultry Caribbean joint make surprisingly apt counterparts to the spicy food, though they won't completely take the heat off dishes like the housemade meat patties. Nor will it dull the aromatic curry chicken or the fall-apart jerk chicken, whose warming allspice and Scotch bonnets cause a sweat. Coconut shrimp in creamy broth is a subtler option; ditto for lusciously fatty oxtail. Caramel cake won't hurt a bit, either. That is, until you crave it again later—now that could bring some pain. 1512 Sherman Ave (847-328-1000). El: Purple to Davis. Bus: 205; Pace 208, 250. Lunch, dinner. Average main course: $13.
Union Pizzeria Sure, there's pizza at this modern, design-minded Evanston pizzeria, and it isn't half bad: The bottom crust is impressively crispy, while the crust around the perimeter is puffy and chewy. But compared to the great small plates that come before it (silky kale braised in white wine, herbaceous veal-pork-ricotta meatballs), and the desserts that come after (a polenta pound cake topped with soft, sweet peaches; a magnificently rich chocolate panna cotta), the pizza will probably make the smallest impression. That's not a bad thing—it's just not a pizzeria thing. 1245 Chicago Ave (847-475-2400). El: Purple to Dempster. Dinner. Average pizza: $12.
Wiener and Still Champion This Evanston stalwart has been going strong for more than 30 years on the reputation of its hot dogs. But ever since a new owner took over in 2005, the "dipping dog"—otherwise known as a corn dog—has been a main attraction as well. Unlike other corn dogs, this dipped-and-fried-to-order specimen is only lightly sweet, and it actually tastes like corn. But then, everything here is done the way it should be: Chicago dogs exhibit their proper snap, thin burgers are served on fresh, fluffy rolls; and the fries—well, we know this is a hot-dog joint, but the fries are so perfectly crisp that they steal the show. 802 Dempster St (847-869-0100). El: Purple to Dempster. Bus: 201 Central/Sherman, 205. Lunch, dinner (Mon–Sat). Average main course: $5.
You might also like
---