Cookies where you least expect them | Lincoln Park Neighborhood Guide 2011
By David Tamarkin Wed Jun 1 2011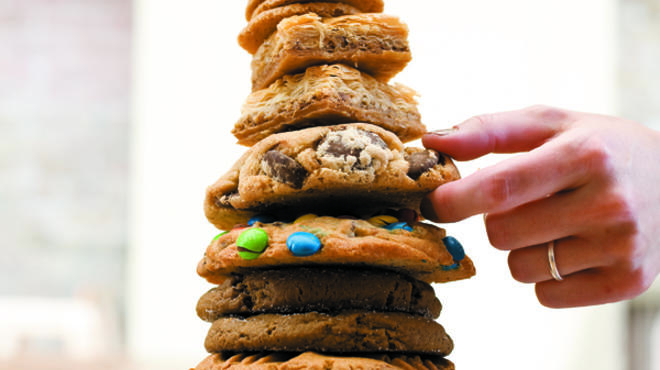 Cookies from top to bottom: Coconut and oat cookie, and the cornmeal lime sable cookie at Floriole Bakery; Baklava at Sultan's Market; Costa Rican chocolate cookie at Vosges; "Signature" cookie at Meatloaf Bakery; Ginger molasses cookies at Molly's ... Photograph: Martha Williams
We're not complaining or anything, but for years now it's been impossible to walk three blocks in Lincoln Park without tripping on a cupcake. But here's a little-known secret: That homeliest of desserts—the simple, satisfying cookie—is all over this 'hood as well. They've just been hiding in unexpected places (even—get ready—cupcake shops!).
Floriole Bakery
1220 W Webster Ave, 773-883-1313
Known for Croissants
Unexpected cookie Cornmeal lime sables (50 cents)These small, coinlike cookies, kept in a big glass jar near the cash register, are made to be eaten by the handful.
Sultan's Market
2521 N Clark St, 312-638-9151
Known for Falafel
Unexpected cookie baklava ($1) With crisp layers of phyllo layered with copious amounts of sugar syrup and nuts, this cookie delivers a flabbergasting dollar-to-sugar ratio.
Vosges
951 W Armitage Ave, 773-296-9866
Known for Truffles
Unexpected cookie Costa Rican chocolate ($5.50)These hefty chocolate-chip cookies are made in conjunction with Carol's Cookies and weigh in at approximately a half-pound each.
Meatloaf Bakery
2464 N Clark St, 773-698-6667
Known for Meatloaf
Unexpected cookie "Signature" cookie ($4) They call it "signature," but you could also call it "kitchen sink"—the thing is packed with pretzels, M&Ms, dulce de leche, oats and chocolate chips.
Molly's Cupcakes
2536 N Clark St, 773-883-7220
Known for Cupcakes
Unexpected cookie Ginger molasses ($1.50)Sweet and spicy cookies like the kind you'd find at a bake sale. Which is fitting, since a portion of Molly's profits is donated to schools.
Sweet Mandy B's
1208 W Webster Ave, 773-244-1174
Known for Cupcakes
Unexpected cookie Peanut butter ($1.75)Like everything else at this shop, these look and taste like June Cleaver made them: classically soft, rich and sweet.
You might also like
---