Martin Kastner: Aviary's glass master
The serviceware designer at Grant Achatz's new bar went from fixing locks at a medieval Czech castle to transforming the way you consume cocktails.
By Jessica Herman Wed Mar 9 2011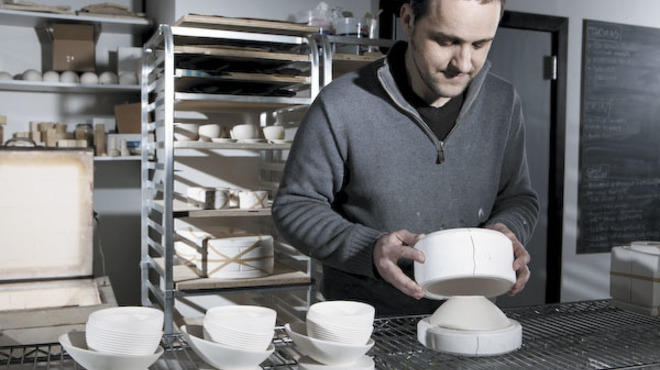 Photograph: Damien Thompson
At Martin Kastner's West Side industrial design studio, Crucial Detail, work tables are covered in molds and paper mock-ups, and stacks of orange buckets sit on scuffed floors. It's drafty and a little messy—the opposite of what you'd expect given Kastner's sleek, sophisticated designs: self-supporting stainless-steel skewers that look like antennae and cratered porcelain plates on which Grant Achatz serves his pristine yet Mad Hatter–esque 25-course meals at Alinea.
But tidying his studio is the last thing on Kastner's mind. As designer of the serviceware for the [node:148751 link=Alinea;] team's new bar, Aviary, slated to open at the end of this month (adjacent to the restaurant, Next), he's preoccupied with a ceramic mug he created for hot cocktails, four versions of which sit on a work table. To most people, the intentionally lopsided, ribbed ceramic cups look identical. But to Kastner, who's testing variations in the porcelain's finish, the subtle differences are one of those crucial details (hence, the studio name) that shapes the drinker's experience.
"I try not to give people what they ask for," says Kastner, 36, with a heavy Eastern European accent. His gray sweater is flecked with paint splatters, and he cracks a smile when he senses he's getting a bit too obtuse. "People come to me because [I deliver] what they have [not] thought of."
You might also like
---